Bitcoin debit cards are one of the best ways for anyone to convert Bitcoin to cash.
The cards can give you the option to either withdraw money at an ATM or use it for shopping. These are must-have crypto tools for every true cryptocurrency enthusiast. Each Bitcoin debit card comes with its own unique bonuses. And it is actually wise to get all of them for more options and convenience.
Below you will find more information about various card providers, their advantages, and disadvantages. Most Bitcoin debit cards are available only in certain parts of jurisdictions, so it's important to know which one fits your pocket the best.
Using Bitcoin debit card when cashing out different cryptocurrencies is by far the easiest and fastest way unless you are paying for something with Bitcoin directly. However, as that's not always possible, this is when Bitcoin debit cards are ready when you need them the most.
Here are the 17 best working Bitcoin debit cards you can use today in 2020
---
Advanced Cash offers the most cutting edge worldwide easy to use Bitcoin solutions today.
Backed up by +20 years of experience in international finance, Advanced Cash is a reputable company with a long background in the industry. The platform is easy to use and has versatile online payment systems that help you and your business stay ahead of the game.

This card is available worldwide, accounts can be registered for both individuals and companies, ATM withdrawals can be done in any currency, there are no maintenance fees, and delivery is absolutely free as well.
You can fund your account with Bitcoin or you can choose to use many other funding methods such as Visa, Mastercard, American Express, SEPA, and many more. When ordering a card, you can choose between a few different currencies such as EUR, USD, RUB, or you may also choose to order them all.
When it comes to card load limits, advanced cash shines at its ability to offer multiple different cards to users, not only it has some of the highest daily spending limits of (€20.000), but if users so choose, they can also order multiple cards and have even more variety.
To get started with Advanced Card, all you need to do is to register on their website with your email and password. While registering, you can choose between personal and business accounts, the business account is more advanced, it is capable of doing mass payments and it has higher spending limits. You can also, for example, generate multiple cards for your whole team and move money within advanced cash for free.
After successfully registering the account is operational right away. The cost of plastic cards is around $14.99 depending on the currency you choose. However, while waiting for delivery you may also choose a virtual card which activates instantly and is half of the price around $7.99.
The advanced card may not have cashback programs or other perks and such as the other cards but this is not much of a problem since its superiority comes from its functionality, the card is just so simple to use and how it works out of the box without much of a hassle, this is what makes all the difference.
That being said, Advanced Card is our #1 favorite and choice when it comes to Bitcoin debit cards.
---
MCO is a high reward Bitcoin debit card solution available within Singapore, EU, and the US.
This is unique a platform with multiple different reward systems, such as the ability to earn an interest of up to 18% annually and cashback up to 5% on all spending.

On top of this, the platform works as an exchange, giving you the ability to buy and sell over 7 different fiat currencies and 53 cryptocurrencies. You can add fiat on your platform by making a bank transfer, connecting your debit or credit card or using cryptocurrencies. You can also purchase cryptocurrencies through the app just as easily.
Contrary to other Bitcoin debit cards, the MCO card is made of composite metal and can be acquired for free.
The MCO cards, don't have any monthly fee, no annual fee, no shipping fee, and no setup fee. Instead, to get a card, you'll have to purchase MCO tokens and commit to staking them for the next 6 months.
After the 6-month lock-up period has ended, you are able to unlock your stake and transfer the tokens back to your wallet app. From there, you are able to sell them, keep them, or continue staking to enjoy additional features.
MCO tokens can also be found on many different exchanges, the most popular ones to use are OKEX, Binance, Gate.io, and Livecoin.
To get started acquiring your MCO card, you will simply head on to the website, download the app on your phone, and sign up using your email and phone number. You will then be asked to confirm your email, after doing that, you'll be prompted to verify your identity.

After successful verification, you'll be ready to purchase MCO tokens to deposit them into your wallet to stake them to get the MCO Vica Platinum card.
Sign up using code "de7wtcp8hh" and get a free bonus of ($50 USD in MCO)
---
Revolut is all in one Bitcoin debit card solution for European & US freelancers and businesses.
The Platform has over +8 million registered accounts and offers a wide range of tools and services for both individuals and companies making them a viable solution for handling cryptocurrencies.
Revolut has set up different plans for individual needs, all randing by prices and functionalities, all the way from free to up to £12.99 a month. But by default, even free plan comes with a Euro IBAN bank account under your own name and the ability to transfer Bitcoin to over 30 other fiat currencies. On top of this, you'll able to withdraw up to 200€ per month for free, and spend cryptos aboard in over +150 currencies.
The highest costing plan includes travel insurance, disposable virtual cards, exclusive Revolut metal card, cashback rewards up to 1% and much more.
Opening an account takes just a couple of minutes, to do so you can head up to the website, and hit your phone number, you'll get a text message which includes the link to download the app. From there you'll register using your email and password.
After registering successfully, you'll be prompted to fill your identity information from where you'll be able to order a card right away.
On top of all this, where Revolut truly shines is at its separate Freelancer and Business plans which can be set for different sizes of businesses, starting from free to all the way up to enterprise solutions. These plans can be scaled indefinitely and can cost up to £1000 a month depending on what the business needs.
Revolut for Business has a large variety of its own products that can be implemented. For example, you can issue an unlimited amount of corporate cards for your team, both virtual and physical. Set monthly limits, track and manage expenses, separate currencies to up to 30 different categories, manage accounts for different purposes all on a single dashboard.

Revolut is designed to be convenient, makes accounting painless and a lot more.
---
Skrill is a long-standing traditional focused business that offers fast and secure online payments of all kinds.
The Skrill platform isn't just well known because of its prepaid cards but because it is well established and known in the e-commerce business world offering a large variety of different financial services. They allow payments and transfers of all kinds, and with a focus on low-cost money transactions.
On top of this, the Skrill platform makes it possible to instantly convert over 40 different fiat currencies into all major cryptocurrencies, making it possible for anyone to purchase cryptocurrencies on the go.
The Skrill prepaid MasterCard is available for the customers within the Euro Payments Area + a few other countries. You can use and spend the card abroad everywhere where Mastercard is accepted. The card can be denominated in EUR, USD, GBP or PLN currencies, and you will be asked to choose one during the application process.
The Skrill platform accepts a variety of different payment methods such as Bank Transfer, Credit Card, Rapid Transfer, Neteller, and Cryptos, and many more. Each of these can be used to fund the Skrill account, the money then can be used to fund the card itself.
Getting started with Skrill is fairly simple, all you do is head to the website, and sign up with your name, email, and password. You will then have to verify yourself, you do this by depositing money to the account, and you can use any of the available payment methods. After the verification process is complete, you can order the prepaid card right away, however, note that you will need to have at least 10€ in your account since you are being charged with the annual fee.
Once you have ordered the Skrill card, you will receive it on your chosen address within 2-10 business days. For customers outside of the European economic area, the delivery may take up to 20 business days.
And that's it, now you can simply deposit Bitcoin into your Skrill account, and conveniently use it everywhere.
---
Wirex is the most popular Bitcoin debit card choice for individuals living in the European area.
The platform has digital and traditional currency wallets at your fingertips giving you control over 20+ currencies including BTC, ETH, LTC, EUR USD and many more.

Wirex has an inbuild easy to use app that gives you access to institutional rates at retail volumes letting you instantly exchange crypto to crypto, traditional to crypto and crypto to traditional. And not only that, every Wirex card account comes with actual IBAN bank accounts under your own name, so you get to use that as well.
By default, the card has cash back rewards of 0.5% every time you swipe, tap or enter your pin in shops, restaurants, and on transport. By holding Wirex token you get to increase that rate up to 1.5% making it ideal saving method in the long term.
The card creation and delivery are absolutely free can be done in GBP, USD, and EUR currencies. Each card has account maintenance fees of £1.00 / €1.20 / $1.50 per month depending on the card you choose.
To get started with Wirex, you simply head to the website and register using your email and password, from where you will be prompted to do verification which will usually be confirmed in a matter of a day or two.
After successful verification, you can make a card order of your choice, the card will use a royal mail, and be sent to your choice of address and gets delivered within 2-15 days depending on if you live within UK or outside.
Another great think about Wirex is that if you choose to link your current bank card on the app, it also becomes incredibly simple to purchase Bitcoins within the app.
At the moment Wirex does not provide business card solutions and does not have worldwide coverage but is continuously working towards this and is already halfway there.
After all, Wirex is a fantastic Bitcoin debit card choice for individuals and does provide a lot of solutions for easy management and exchange of multiple currencies.
---
Bitwala is an all in one cryptocurrency bank that providers both Bitcoin debit cards, and unique IBAN numbers for European individuals, with deposit guarantees of up to €100 000.
Bitwala is not just any regular bank, it is the first truly unique highly detailed cryptocurrency-focused bank that operates from Germany, and therefore also offers high-quality German bank accounts to it's +80 000 customers.
The platform not only offers all the regular banking and Bitcoin debit card services to its customers, but users can also buy and sell a variety of different cryptocurrencies, including Bitcoin and Ethereum with fixed 1% fees. And on top of trading, users can open interest accounts within Bitwala and earn stable interest rates of 4% on all of their crypto holdings.
Bitwala MasterCard doesn't have any issuance, monthly, or withdraw fees. The card is connected to your very own IBAN bank number, so it also has no maximum deposit limit, meaning you can deposit as much as you want.
And because Bitwala has also partnered with CryptoTax it allows users to easily follow step by step system so you know exactly how to easily export documents, and stay compliant, while submitting crypto tax reports with just few mouse clicks.
In order to obtain Bitwala debit card, users must be residents of the European Economic Area, Bitwala also restricts the usage from certain nationalities, however, they do accept applications from over 70+ nationalities, and the complete list can be found from the website.
To get started ordering the card, you must first register on the website, and perform verification. The easiest method to do this is through a smartphone application, as it allows the use of a camera.
Bitwala verification doesn't take too long, just a couple of minutes, however, you are required to have short discussions with representative, and shows your face, ID, and proof of address. After the verification is complete, your account is ready to be used straight away, and you can order your free Bitwala card, that gets delivered anywhere from up to two weeks.
Open Bitwala Account, and get free 15€ bonus!
---
Crypterium Card is a global Bitcoin debit available anywhere in the world.
Crypterium is a platform offering a wide range of financial tools, such as a 5% interest savings account, fast Bitcoin purchases, topping your mobile phone with cryptos, and much more. Users of the Crypterium App can also order Bitcoin prepaid card with just a few clicks.
Crypterium has two different Bitcoin debit cards, however, this article focuses only on one as this prepaid Bitcoin card is one of the few available to all cryptocurrency holders around the globe.
To get started ordering the Crypterium card, all you have to do is download the Crypterium App, which is available for both Android and iOS devices.
Once you've downloaded the app, you will register using your phone number, password, and pin code. You will then head to the "Order the Card" section and fill in your personal details for verification.
Next, it's time to order your Crypterium card, by default the card creation fee is either $9.99 or $14.99 depending on whether you hold CRPT tokens or not. Alternatively, you can also upgrade to the premium plan for $2.99/month, which offers a wide range of financial services such as the ones we mentioned above. The actual Card has no monthly fee.
CRPT tokens can be bought right from the app, or you can also use a few different exchanges, the most popular exchange for CRPT tokens is KuCoin.
Crypterium Card contrary to most competitors is using a UnionPay prepaid debit card, meaning it doesn't use Visa or Mastercard as it's payment operator. At the time of writing, there are almost 23 million merchants connected to the UnionPay network in over 175 countries.
Use code "xcs94" when ordering to receive $5 for free to try it out!
---
Cryptopay is a high limit Bitcoin debit card with up to €30K in a single transaction, available in the UK, and soon in the rest of the European Area.
The Cryptopay platform is an all in one Bitcoin debit card provider for individuals and businesses, the platform lets you securely hold cryptos like BTC, LTC, XRP, ETH on your Cryptopay account, make big purchases with their high limit Bitcoin debit cards, that has single spending limits of up to 30k euros.
Not only the platform offers easy to use debit cards, but users can also purchase Bitcoin through the platform, however with quite expensive fees of 4% per purchase.
When it comes to the use of Bitcoin debit cards, however, the platform is truly out of touch with the normal limitations of what we are used to with other competitors, and therefore a perfect for big purchases, and use in online transactions.
Just to get started the Cryptopay card has a load limit of over 3.000.000 (3million) euros per year, with a maximum card balance of up to €50k, 8800€ card load limit per day and ATM withdraws limit of 450€ per day.
The plastic card has a price of 15€, 2.50€ for a virtual one, there is also a service fee of 1€ per month and a 1% currency conversion fee whenever you convert cryptos to fiat currencies. ATM withdraw costs you 2.50€ per withdraw, on top of these are foreign transaction fee of 3%, and inactivity fee of 5€ per month after 365 days of inactivity. However, transactions within the currency of the card are free of charge.
That being said Cryptopay cards can be obtained in GBP, EUR, and USD nominated currencies. Each currency is available for both plastic and virtual versions of the Cryptopay card.
To get started with Cryptopay, you will first head on to the website and create your free account, and you will then confirm your email. Before you can order your card, your account should be verified to the Tier3 level, meaning the KYC procedure is required. Once your account is verified, the "order a card" button appears in your account, from where you can make a purchase, the delivery is free, and might take up to 10 days.
---
Coinbase is one of the easiest ways for people in the united states to convert their Bitcoin to cash and vice versa, the world largest hot wallet also operates its own Bitcoin debit card.
Coinbase exchange platform is one of the most well known in the industry, it offers everything from purchasing and selling cryptocurrencies to the more advanced trading platform, and business opportunities.
However, a less known thing about Coinbase is that it also operates its own Bitcoin debit card available in the US, and in multiple other countries worldwide.
Coinbase card makes spending cryptos extremely easy, as it's directly connected to your Coinbase account balance, meaning the user can switch between spending BTC, ETH, LTC, BCH, XRP, BAT, REP, ZRX, and XLM cryptocurrencies with just a click of a button.
The card is also pretty flexible with it's spending limits as it allows you to spend up to £10,000 / 10.000 € per day. And withdraw up to £500 / 500 € from ATM a day, and has a yearly purchase limit of over £100,000 / 100.000 €.
Getting started with Coinbase card is also pretty straightforward, all you have to do is to first sing up on Coinbase from where you verify your account, and you are ready to go. Now you simply download the Coinbase card app, and you can order the card.
Note that the card creation fee is £5/5€ and you need to have that amount in your crypto balance in order to get started. It's also important that your address information is correct at your Coinbase account because that is where the card will be delivered. The delivery takes on average 5-7 business days for the car to arrive at your front door.
---
BlockCard is a unique Bitcoin debit card provider that issues both virtual and physical Bitcoin debit cards. It also provides a BlockCard dashboard website & native app where users can manage, track, bank, and use their cryptocurrencies.
The platform allows users to do their banking in real FDIC insured bank, manage and store fiat currencies and also convert crypto to fiat or vice versa. The Blockcard also has its own cryptocurrency referred to as TERN. And it is currently available in the US and aiming for 31 European countries.
The BlockCard virtual Visa card is free and it is used in making online payments and it has a daily spending limit of $5,000.
The plastic BlockCard, on the other hand, costs $10 and it can be used to make withdrawals at any ATM that accepts VISA cards or paying at retails that allow the use of VISA debit cards. Its daily spending limits are $5,000 while its daily ATM withdrawal limit is $500.
There are no fees for transactions, deposits, or exchanges for both the virtual and plastic cards. However, there is a monthly subscription fee of $5.00 for users that spend less than $750 per month at Point of Sale (POS) merchants. If the monthly spending is above $750, the monthly subscription fee is waivered.
The card's ATM Cash Withdrawal Fee is $3 for domestic users and $3.50 for international users. There is also an ATM Cash Withdrawal Declined Fee of $0.5 for domestic users and $1 for international users.
Swiping the card during POS transactions is free, however domestic users are charged a PIN Transaction fee of $1 while international users are charged $2.
To get started with Block card you simply head on to the website and register an account. After registration, you are required to process with KYC documents, once the account is verified, you are ready to go, with ordering the card, the plastic card creation fee is $10 while virtual is free of charge.
---
SpectroCoin is one of the older original cryptocurrency exchanges, providing payment processing solutions, and visa cards, that are available in the European Economic Area.
The SpectroCoin platform allows users to buy, sell, transfer a variety of cryptocurrencies, including Bitcoin, Dash, Ethereum, and over 20+ fiat currencies. There are also several different payment methods for deposits including debit cards, SEPA, Skrill, and Neteller.
However, SpectroCoin is probably best known for its merchant solutions, as it's one of the most well known original Bitcoin payment processors.
Today SpectroCoin also operates its own prepaid cards that users can use to convert a variety of cryptocurrencies into Euros and pay wherever they want.
The cards can be used like any regular visa cards, either on physical shops or online, withdraw cash from an ATM, or link it to your PayPal account.
The card creation fee is 7€ it has a monthly service charge of 1.15€, and the ATM withdrawal fee starts at 1€ + 05% depending on where you are. The card has a max balance limit of 8000€ and a POS / online transaction limit of 7700€, while ATM withdraws limit is 300€.
SpectroCoin cards also have instant funding from the Spectro wallet, so no additional hassle is required when one wants to use the card for payments.
To obtain SpectroCoin Bitcoin prepaid card, one must first register on the website, and get KYC verified in order to use the card. The card will be delivered to your place within 3-10 days depending on which delivery method you choose.
Get SpectroCoin Prepaid Card Now!
---
Paycent is one of the more unique worldwide UnionPay Bitcoin debit card providers. Besides offering Bitcoin debit cards, it also has its crypto-token, the PYN-C37 that is listed on two leading crypto exchanges; Bithumb SG and Binance DEX.
Paycent also provides users with a mobile e-wallet referred to as Paycent Hybrid App. This is where the Paycent token can be used to stake to gain additional rewards, the minimum stake amount is 10.000 PYN-C37 tokens.
Paycent cards are Unionpay Bitcoin debit cards that allow users to cash out cryptocurrencies through an ATM anytime worldwide.
Paycent offers high limit physical and virtual cards. The virtual card is mostly for online shopping while the physical card is for converting and withdrawing cryptocurrencies through ATMs.
To get the physical Paycent card either RUBY, SAPPHIRE or SOLITAIRE one will have to pay $49 for DHL/ FedEx delivery. The virtual card is free and there are no activation fees required. However, users are required to make an initial minimum deposit of $25.00.
Note from here on the guide will focus on the lowest tier card (RUBY), the higher tier cards, are the exactly same but with higher fees, and even higher load limits.
When loading the card, a fee of 1.5% of the top-up amount is charged. There is also a transaction fee of $0.20 that is charged for any Point of Sale or retail purchase using the card. And a fee of $3.50 is applied for both domestic and international ATM withdrawals.
Paycent also has an additional fee of 1.25% if the transaction is made on foreign networks.
However, the Paycent card is truly special when it comes to the load limits as the card has one if not the highest ATM withdraw limits on the whole industry starting from $5.000 per day. And with the annual load limit topping at $240.000.
To get started ordering the Paycent card is simple, first, you download the mobile app, and register an account, from where you can get verified. Once the account is verified, you can choose which card you want to order.
---
Bitpay was one of the first original Bitcoin debit card providers in the industry. And the platform provides still some of the most popular Bitcoin merchant services.
Using the Bitpay Merchant service users can easily set their website to accept Bitcoin and get paid in different fiat currencies including USD, EUR, and GBP.
Bitpay also provides personal MasterCard that lets you manage and spend your Bitcoin with the BitPay wallet, and turn Bitcoin into dollars.
Bitpay card allows you to instantly reload your balance with no conversion fees and spend wherever MasterCard is accepted.
The card has an issuance fee of $10, with no monthly fees, but does have an inactivity fee of $5.00 per month after 90 days of no transactions. A 3% currency conversion fee also applies.
ATM withdraws can be done three times a day with a limit of $2.000, while the total daily spending limit is $10.000.
The Bitpay card is designed for people who want to live on crypto, and it does this quite well, however, the company has some not so favorable shady background issues behind, which for many could come as a moral blockage for wanting to use the platform.
However this article is not about that, and if someone wants to learn more, we suggest checking what happened with Bitpay yourself by researching "Boycot Bitpay" from google.
That being said, to obtain the Bitpay card, all that is required from you is a verified Bitpay ID account and the initial payment for the card. To get started simply download the Bitpay wallet, and process with your Bitcoin deposit, and the verification.
Download Bitpay app, to get started!
---
Bitnovo Bitcoin debit card is currently one of the few cards that exist which can be obtained without the need for registering or without any type of KYC documentation.
Bitnovo is a platform that allows cryptocurrency investors to buy Bitcoin, Ethereum, and Dash among other cryptocurrencies with ease. The platform allows investors to own a debit card referred to as Bitcard or BITSA card, which are both Bitcoin prepaid cards. Investors can also purchase voucher cards that are redeemable for Bitcoin or any other cryptocurrencies.
The cards can be used to purchase goods online or at any store, withdraw cryptocurrencies from any ATM, send or receive cryptocurrencies, recharge it from a Bitnovo voucher card, or with cryptocurrencies.
Depending on which card user wants to obtain, Bitcard or BITSA the requirements are slightly different, for example, Bitcard doesn't require an account, nor documentation, and it can be obtained only through the website. While the BITSA card does require an account, and it can only be obtained through the Phone application.
Both cards have their pros and cons, but if the user chooses to initiate KYC documentation, then the cards at their core are then very similar, the main difference being that BITSA is more restricted as to its only available within the European Union.
That being said, from here on this guide will focus on Bitcard, because of it's more unique non-KYC features.
Bitcard is a worldwide bitcoin debit card, that can be ordered anywhere, however, the card can only be upgraded above "Basic level" within Europe, and this feature is only available for European residents. This means that for a larger majority of people outside of Europe an investor can deposit only a maximum of €250 through a one-time top-up. However the Basic level doesn't require any documentation, but it also cannot be used to withdraw from an atm.
This mean that the "Basic level" is available for everyone, while for European customers the deposit limit is determined by what the investor chooses. There are three levels, basic, plus and premium, from which investors can choose from. The level gets upgraded based on how much documentation the users wants to provide. Premium means Full KYC with pictures of id:s or passports while plus means simply providing more information about yourself through the website. Note that only cards at plus and premium level can be used for ATM withdrawals.
And the deposit limits are as follows: for the plus level, an investor can top up a maximum of 2,500 € per year and a maximum of € 1,000 in up to three times per day. For a premium level, an investor can top up a maximum amount of € 15,000 without an annual top-up limit and a daily top-up, of up to € 5,000.
Bitcard charges no commissions when making purchases, instead, the card costs 25€ to get, it has a 1.20€ monthly maintenance fee, ATM withdrawals are charged at €1, and it has +5.00% commission on the top-up amount.
To get started ordering Bitcard, the user simply has to visit the website and fill out the form, with their name, email, and shipping address information. There is no registration needed, and the card gets delivered to your place anywhere between a few days and a couple of weeks.
---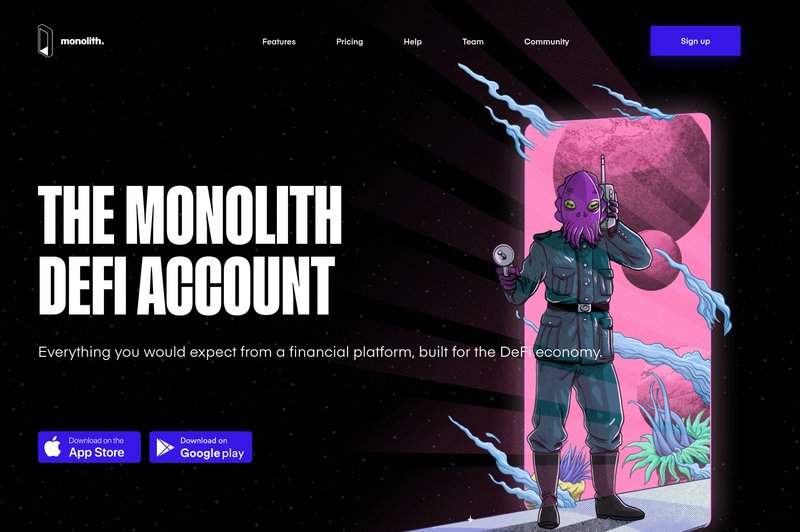 Monolith is s decentralized financial (Defi) platform that is built on the Ethereum network and offers a cryptocurrency wallet with a crypto debit card.
The Monolith is trying to become all in one a complete defi package, and currently, it allows users to store, send, receive, borrow, and swap a wide range of Ethereum based tokens.
Monolith wallet, unlike most competitors, is open source and non-custodial, meaning the user is in total control of their Ethereum assets at all times. The platform is based on London and therefore is accessible to European customers.
The Monolith wallet also has some more advanced features in place such as dex accelerators, and the ability for users to deploy their defi contracts directly through the wallet.
Through the Monolith crypto debit card, users can spend all of their favorite Ethereum based tokens. The platform also includes a unique European IBAN number, and users can also borrow against MAKERDAO assets or receive salary directly to DAI stable currency.
Monolith offers two VISA debit cards nominated either in GBP or EUR. Meaning transactions are made using the currency of your choice. For both cards, there are no monthly or shipping fees. And ATM withdrawals are free for the two cards for the first two months. After that, for the card GBP, there is a £0.75 per withdrawal fee while for card EUR the withdrawal fee is €0.85 per withdrawal.
Note that if a user makes purchases using the EUR or any other fiat currency and they have a card nominated in GBP, they are charges a 1.75% purchase fee and vice versa for the card EUR.
When any of the cards are topped up with any other cryptocurrency other than the DAI, there is a 1% top-up fee, and 1% community contribution fee occurs if Monolith own token TKN is not used, the community contribution fee belongs to the TKN holders. The available top-up currencies include ETH, TKN, DAI, DGD, DGX, MKR, SAI, and USDT.
The card also has a daily spend limits of €8,000/£7,500, a daily purchase limit of €7,600/£7,150, a daily cash withdrawal limit of €350 and a card balance limit of €8,000/£7,500.
To get started with Monolith crypto prepaid card you simply head on to the website and download the app on your phone. You will then create a Monolith account, and go through the KYC procedure, from where you can apply for your card. The card should then be delivered to your place within 14 business days.
---
Plutus is a fresh Crypto debit card candidate that allows account creation for anyone within the UK or European Economic Area.
The Plutus platform lets users shop using the Plutus card all over the world, both online and offline, while they also simultaneously can earn 3% crypto cashback and sometimes up to 30% from selected retailers.
The platform has its own unique non-custodial system in place that allows users to swap funds between each other, taking the centralized counterparty risk away altogether. Meaning the private keys of your cryptos are never revealed to the company itself.
The Plutus card is a normal Visa card that can be used everywhere Visa is accepted.
The card has three separate price plans Starter, Premium, and Pro each with their different advantages, and perks. The starter plan is free to use, however, it offers no cash back rewards, it has a slightly lower trading limit, and the card issuance fee is £9.99.
Both the Premium, and Pro plans (£4.99 – £7.99) offer cash back rewards, slightly higher trading limits, and free card issuance.
It's important to understand however, that the trading limit within priced plans is not the same as card load or spending limits, and the trading limit is only talking about the non-custodial dex.
All Plutus plans have the exact same ATM withdraw limit of £300 a day, the daily spending limit is either £2,500, £5,500 or £7,500 depending on your price plan. And similar price increases are in effect for other limits as well.
To obtain the Plutus card, you will first need to create a Plutus account, from where you can complete the KYC verification, and once verified, you will be able to select your price plan, take note of the card price and other perks while choosing the plan.
---
TenX is one of the Bitcoin debit card providers available for European residents. The platform also provides users with a mobile e-wallet to make it easy for them to buy, send, and use Bitcoin in making payments across the globe.
TenX Visa card allows users to convert their Bitcoin, Litecoin, or Ethereum into their local fiat currencies and withdraw through their nearest ATMs. Additionally, the card can be used to physically pay for goods and services at retails shops with ATM card readers thus enabling Bitcoin, Litecoin, and Ethereum holders to use the cryptocurrencies to make direct payments.
TenX offers physical TenX Visa cards and virtual TenX Visa cards that are received instantly upon approval and can be used for online shopping anywhere across the globe where Visa is accepted.
To own a physical TenX card, users are required to pay a $15 issuance fee. The payments can be made using BTC, LTC, or ETH via the TenX wallet. The virtual card costs $5.
The shipping of the physical cards is free. TenX also does not currently charge any deposit, withdrawal, or foreign exchange fees.
TenX charges an annual fee of $10 except for the first year. However, the annual fee is excepted if the user spends over $1000 in a year.
For ATM withdrawals in EU countries, there is a charge of $3 while in APAC countries there is a charge of $3.25.
Additionally, users can purchase Bitcoin using a credit card or SOFORT in the TenX App. They can also exchange BTC with ETH or any other of the stored cryptocurrency seamlessly.
Whenever a user makes payments or withdraws using the TenX Visa Card, the transactions are tracked in real-time via the mobile e-wallet and detailed transaction history is available for download at the end of the moth especially for filing taxes.
To get started with the TenX card, you first download the wallet application and must verify yourself, once the account is verified, you are able to make an order, and the card will be delivered to your place within 1-2 weeks.
---
Bitcoin debit card fees and limits
Here we've gathered more details about all the bitcoin debit cards included in this article.
These lists includes both fees, and load limits, note that not all fees can fit in this article, and we suggest you do your own research once you find card that you might be interested at.
Fees and load limits listed below are only supposed to be taken as direction, in most situation more fees are involved, such as when doing foreign ATM withdraw or transacting with currency another then the one the card is nominated with.
Bitcoin debit card fees
---
Bitcoin debit card limits
*** This is unique for each user account individually.
** No limit or some other reason to not mention, such as funding method.
* The platform has multiple cards that can be used for this specific purpose.
---
New Bitcoin debit cards with waiting list
There are also multiple new companies constantly getting involved with cryptocurrencies, this means that new Bitcoin debit card providers are just around the corner. This is why we've dedicated this section to inform you about the new payment card solutions that are currently on the way.
These providers have cards that can either be pre-ordered or you can get on the waiting list.
---
Withdraw Bitcoin to your existing debit card
You can also cash out Bitcoin funds to your already existing debit cards. This saves you from the hassle of registering and ordering Bitcoin debit cards, and not only that, you can actually withdraw Bitcoin funds to any debit card you want!
CEX.IO allows you to convert Bitcoin to multiple different currencies whether it's euros, dollars, or rubles, and the funds will be available for spending instantly. There are actually not any restrictions as the service also works pretty much in any country in the world!
You can link any Visa/MasterCard, debit, or credit card.
No need to pre-order cards, just use the one you already own.
Low fees, starting from $3.80 per withdrawal, and no hidden fees at all.
Withdrawals are processed instantly and you can use funds right away.
To get started using this feature, register on CEX.IO, and link your card, choose the amount to withdraw, and that's it! Note the card must have a minimum balance of $1 in order to pass verification, this is to prove that you are the holder of the card.
---
Conclusion
Bitcoin debit cards are truly one of the best ways to cash out your cryptocurrencies when you need to do so. However, as we all know, with cryptocurrencies we hold tremendous power, and therefore it is only wise to decentralize our options whenever it's possible.
The above list contains over 10 different Bitcoin debit cards that are completely free from monthly payments, and it's our strong opinion that each Bitcoiner should obtain at least a couple of different Bitcoin debit cards. Not only you provide yourself more variety when making payments, but you also protect yourself from unnecessary hassle of corporations going under. And not only that you free yourself from the need to depend on one provider.
That being said, now it's time to hear what you think: So what Bitcoin debit cards you consider to be the best ones? And if you think there is something we forgot to mention, or should involve, do not hesitate to get in touch with us, we'd love to hear from you!
Please share this article as the information is relevant to every Bitcoiner out there!
Here's some other articles that you might find interesting: