CoinKit The Dominating Crypto Tipping Bot
CoinKit is easy to use tipping bot that enables users on slack, telegram, discord, and twitter to send a variety of coins to each other through messages/tweets. To start tipping with CoinKit, you must deposit some coins on your CoinKit account first.
To create CoinKit account with twitter is super easy, you simply write a private message to @coinkit_ the CoinKit bot will then be automatically configured on your twitter account, and you can then manage Coinkit bot through the private message window.
Once you have made your first private message with @CoinKit_ you can start tipping! To do this you simply create a new tweet or reply to a comment with a message using the command @coinkit_ tip <amount> [coin] which sends the user a tip.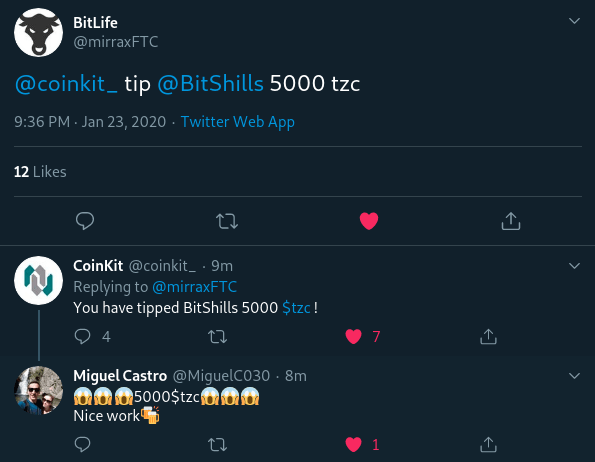 For tips within the slack, telegram, and discord use command /tip <@username> <amount> instead.
Users can also use different commands for multiple purposes, such as checking price conversions, channel tipping, tweet monetization or even play rock, paper, and scissors.
Main Features
Onchain transactions
Multiple coins supported
Free to use, easy to setup
Straightforward customization
How to use CoinKit with examples.
Here we have included some of the main features with examples using slack:
Deposit Coins
Use the command /deposit to find your deposit address.

Withdraw Coins
The command /withdraw <address> <amount> withdraws coins to a chosen address.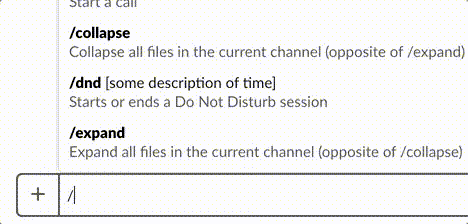 Check Balance
The command /balance shows your actual balance, both confirmed and unconfirmed.

Tip User
The command /tip <@username> <amount> sends the user a tip.
Check Price
The command /price [coin] shows the current price for the default or given coin.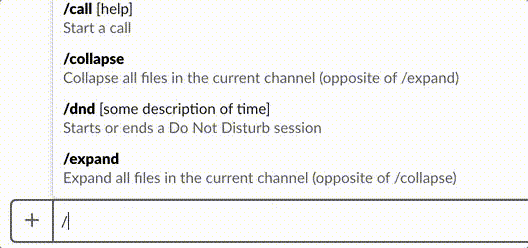 Help & View all commands
The command /tiphelp or just help via twitter shows the introduction and all available commands.
Note that the Twitter menu and features are slightly different from the other platforms.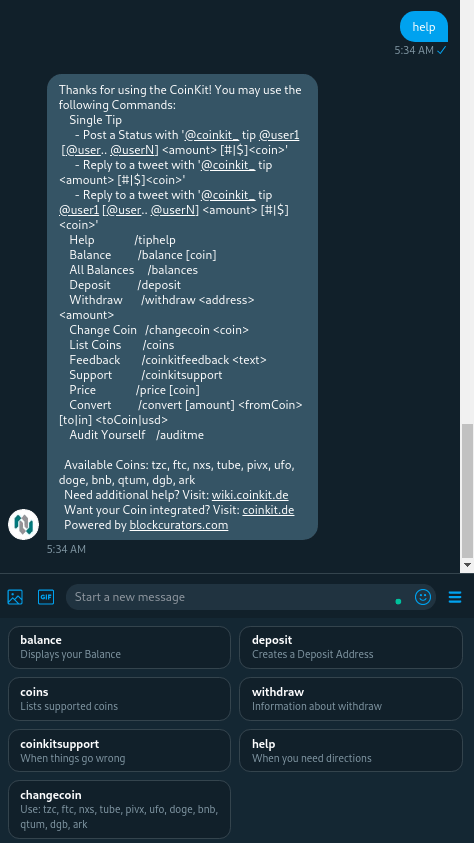 Giveaway & Tweet monetization
The command @coinkit_ mon <amount> [coin] can be used to give away a specific amount of coins for a specific amount of retweets.
In this example, we have chosen to giveaway 1 TZC for up to 1000 people, as you can see there are still hundreds of coins left to be claimed.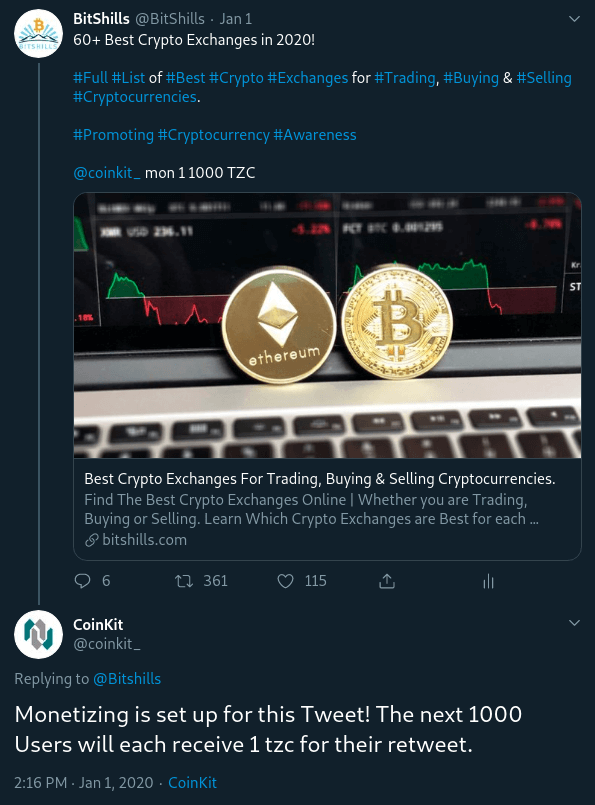 Whenever you send monetized tweets correctly, you will get a confirmation reply from Coinkit (similar to one on the picture). If you don't see such a message, something is wrong.

Note that if a monetized tweet has a "keyword" included, to be eligible to get rewards, the tweets need to get retweeted with a comment, the comment must also have the keyword included.
Tips & Tricks
For awesome stats, check the CoinKit dashboard.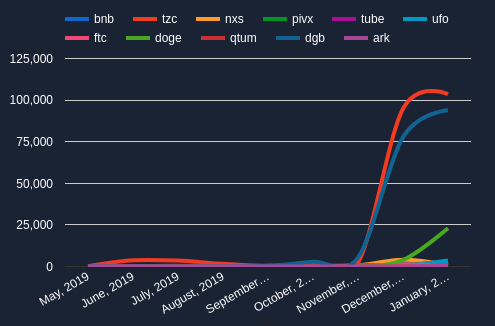 At the time of writing, CoinKit has been experiencing a huge rise in new users, with total monthly tips in December reaching all the way up to 229171.
To view separate stats for each tweet check transparency records.
If you use the Twitter search tool and search @coinkit_ mon, you can view all the tweets that are doing or have done giveaways in the past 24 hours.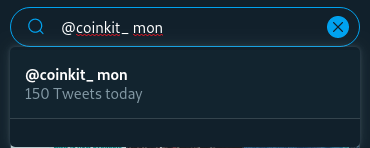 Another important thing is to also take into account the minimum tip amounts & network fees:
Note that CoinKit does not charge any additional fees, these are only network fees.
TZC Min Tip Amount: 0.5 Monetized Min Amount: 1 Default Fee: 0.25
BNB Min Tip Amount: 0.001 Monetized Min Amount: 0.001 Default Fee: 0.000375
NXS Min Tip Amount: 0.1 Monetized Min Amount: 0.01 Default Fee: 0.01
UFO Min Tip Amount: 0.2 Monetized Min Amount: 1 Default Fee: 0.2
FTC Min Tip Amount: 0.2 Monetized Min Amount: 1 Default Fee: 0.2
DGB Min Tip Amount: 0.1 Monetized Min Amount: 1 Default Fee: 0.01
DOGE Min Tip Amount: 5 Monetized Min Amount: 5 Default Fee: 1.04
QTUM Min Tip Amount: 0.02 Monetized Min Amount: 0.02 Default Fee: 0.01
TUBE Min Tip Amount: 0.01 Monetized Min Amount: – Default Fee: 0.01
PIVX Min Tip Amount: 0.001 Monetized Min Amount: 0.01 Default Fee: 0.0004
ARK Min Tip Amount: 0.1 Monetized Min Amount: 0.1 Default Fee: 0.008
It's important to also understand that with CoinKit most of the magic functions are done via private messages, and these messages are only visible to you. The same applies to slack, telegram, and discord.
These are just a couple of examples of what is possible with CoinKit, If you want to find how you can implement CoinKit on slack, telegram and discord or to learn more, visit: CoinKit Wiki
CoinKit membership listing
In order to get project/coin listed on the CoinKit tipping bot, you must fill out the application.
Full Disclosure: BitShills has an affiliate partnership with CoinKit,
If you found this information useful, use code Bit_3NHA while applying, Thank you.
CoinKit membership includes:
Integration for your Cryptocurrency Coin or Token.
Chat channels Slack, Discord, Telegram, and Twitter.
Supports unlimited users across all channels.
Direct Support and Developer Contact.
Includes limited custom features each year.
Audit of Coins Possible.
Coins are insured up to the yearly membership fee.
Note that paid membership does not only offer the benefits of CoinKit tipping bot, but it also filters out crappy projects and scams as only good ones can afford it.
___________________________________________________________________________
Here's also some other unique cryptocurrency projects you might also find interesting: