Having access to the best crypto trading apps is essential.
Monitoring your trading positions can be a huge task in itself, and especially when you are on the go, with the 24/7 nature of the cryptocurrency markets, it quickly becomes obvious that everyone needs a cryptocurrency trading app on smartphones.
It is not, therefore, a surprise that there are multiple different cryptocurrency trading apps available. And this guide will help you figure which one fits your pocket the best.
Note that some exchange apps are ranked higher simply because Non-KYC standard.
---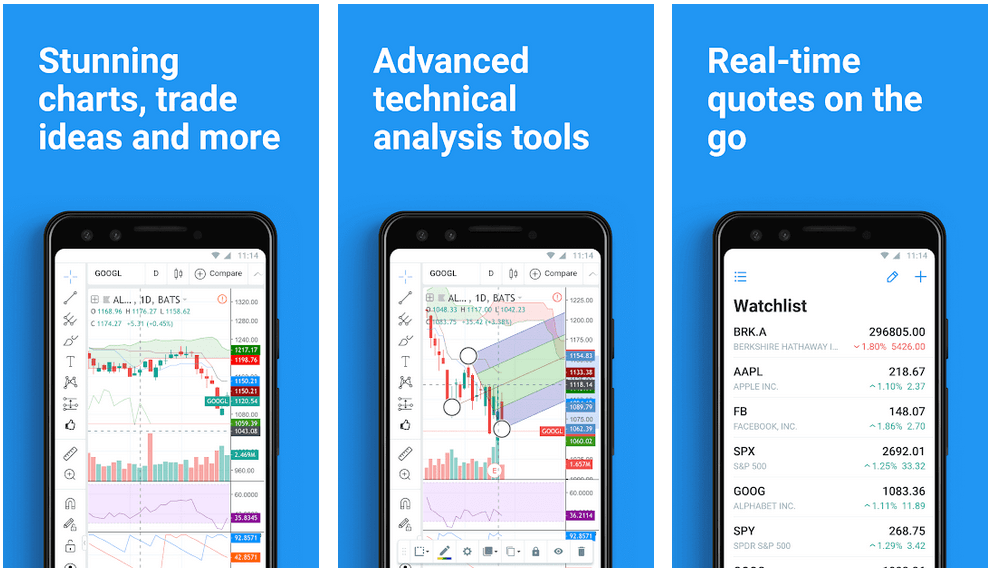 Tradingview is the industry leader charting platform on the market, not only it has the most widely used and well-known chart that almost every exchange known in the crypto industry is using, but it is also well known for markets outside of cryptocurrencies.
The platform is simple for beginners and effective for technical analysis experts, it provides all elements needed for charting cryptocurrencies or markets in general.
The mobile application lets users view a number of trading ideas, real-time quotes, and charts all available for wherever you are at whatever time.
Commodities, Global indices, & Cryptocurrencies.
Real-time data from global markets & exchanges.
Most advanced industry-wide charts.
Individual watchlists and alerts.
Sync your desktop accounts.
Absolutely free to use.
---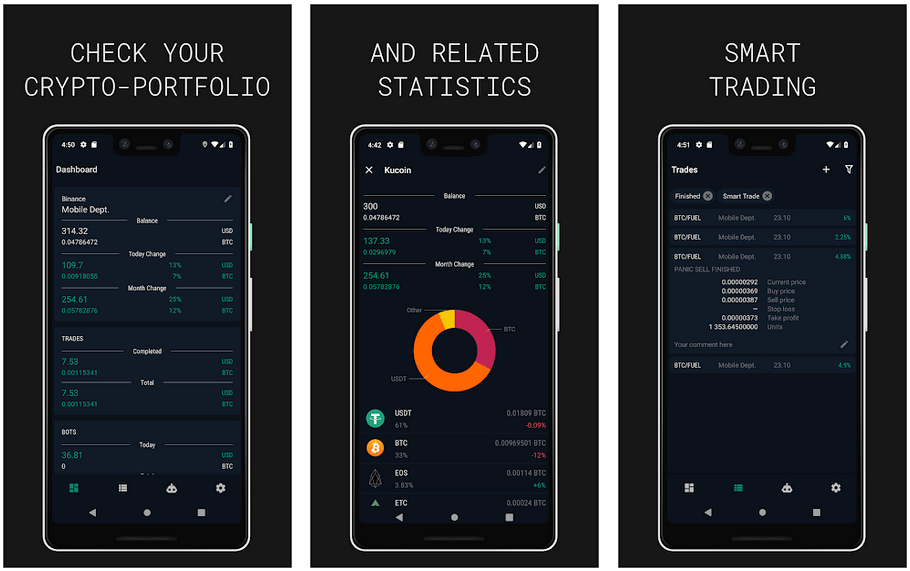 3Commas is probably the most advanced cloud-based crypto trading platform for those who are not joking around and know what they are doing. Whether you are looking just for smart trading tools, accumulating long or short positions, or an endless amount of bots with different needs, this platform is for you.
3Commas provides all tools for crypto traders to maximize profits, minimize risks, and limit losses across multiple exchanges. The platform is fairly expensive to use, yet when implemented in the right way can provide priceless value for years to come.
3Commas mobile application has all the key elements that can be found from desktops, such as smart trading terminal and auto dollar-cost averaging trading bots.
SmartTrading window with limit, market, stop loss, take profit, and trailing orders.
Trade through API on Bitmex, Binance, Bybit, and +23 other major exchanges.
Set up Dollar Cost Averaging long & short bots with a variety of signals.
Track your whole portfolio and all open orders from a single screen.
Only useful for professionals not meant for inexperienced traders.
---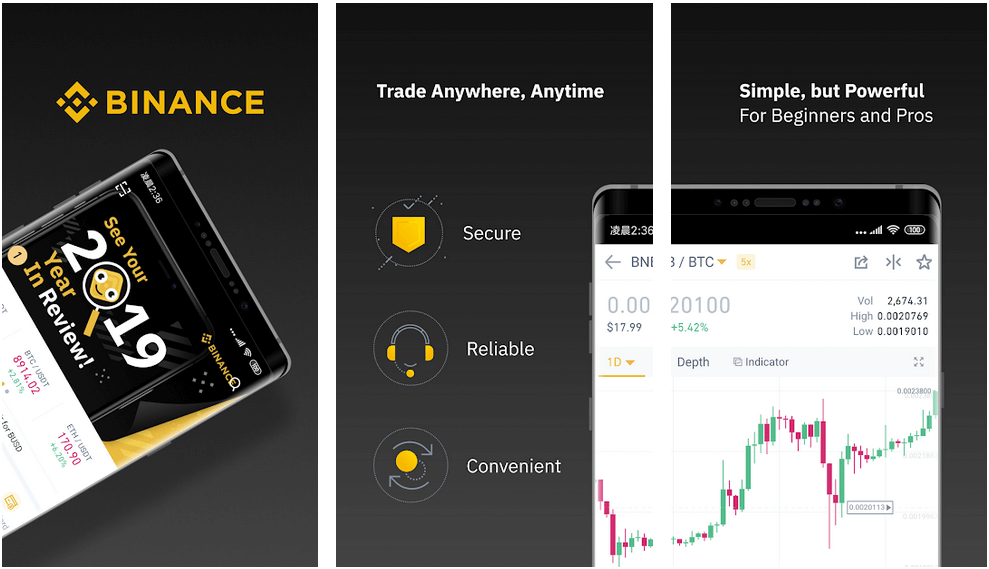 Binance is a global cryptocurrency exchange originating from China, their headquarters moved to more crypto-friendly Island of Malta in the EU. This platform is great for both trading and buying providing more than 100 cryptocurrencies to choose from. And is the biggest altcoin exchange in the world in terms of the trading volume.
The Binance trading app gives you easy access to invest in cryptocurrencies and to cash them for fiat currencies. And it makes crypto trading available for spot, margin, and futures trading.
Buy Bitcoin and other cryptocurrencies directly from the app.
Trade spot, margin, OTC, and futures with up to 125x leverage.
Crypto staking, lending & loans on Binance earn rewards.
Binance VISA payment card connected with the Binance account.
Stay in touch with the Binance support team that is available 24/7.
---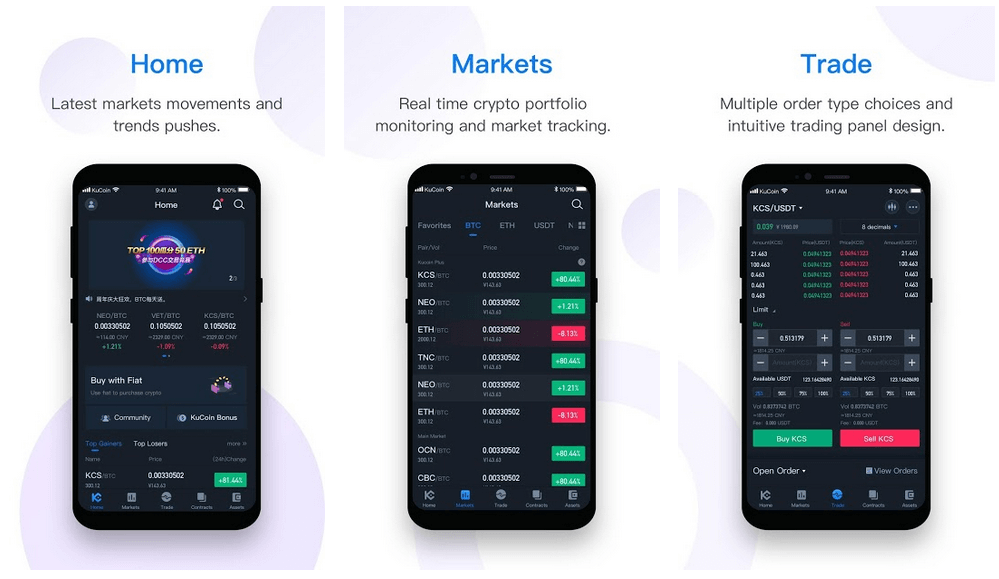 KuCoin is a great alternative to Binance, offering a wide variety of coins to choose from, they as well have the option fo purchase with a credit card and all in all are a great exchange to anyone looking to buy, sell or trade lots of different altcoins.
The KuCoin App and website offer you an easy to use and quick way to start trading anytime, anywhere 24/7
Supports fiat to crypto exchange on multiple currencies like EUR, USD.
Trade spot, and margin with up to 10 leverage.
Multiple order types for all kinds of risk appetite
Lending, staking and other Kucoin reward bonuses.
Kucoin customer service is available 24/7
---
AAX is a crypto trading exchange with spot, futures, and OTC markets. The matching engine for AXX is based on LSEG Technology's which is the same as first-tier markets, such as the London Stock Exchange.
AAX is not only the first exchange running this type of matching engine, but it is also the first exchange to be a member of London Stock Exchange Groups' global Partner Platform, giving the platform's institutional members direct market access.
This platform is leading the way in future trading, across institutional-grade markets, and with mobile, you can trade on the go, anytime.
24/7 real-time price information updates on bitcoin, ether cryptocurrencies.
Perpetual futures contracts for BTC, ETH, LTC, EOS, and XRP.
High 100x leverage and auto-liquidation for safe trading.
Over-the-counter trading with fast settlements.
Spot trading with cutting-edge technology.
24/7 Professional customer service team.
---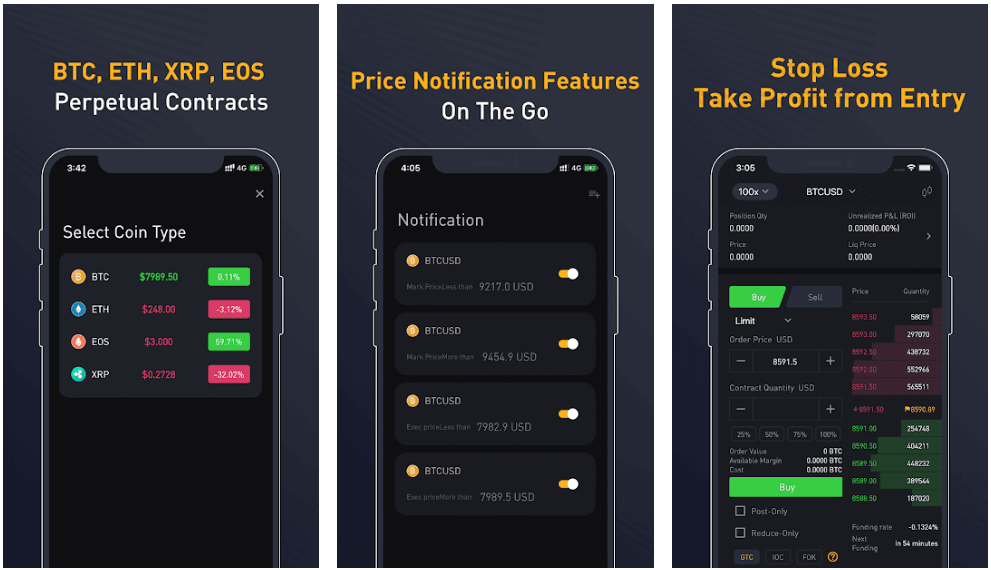 Bybit has quickly grown to become one of the most popular cryptocurrency derivatives trading exchange. Currently, Bybit has one of the largest volumes, and it leads trading with its unstoppable trading engine.
The mobile app offers intuitive easy to use interface that has all the major features, you can enter and exit margin positions, set stops & take profit all simultaneously from one screen.
NO overloads and a 99.99% availability since inception.
Supports BTC, ETH, EOS, & XRP perpetual swap contracts.
Market, Limit and Conditional Orders.
Real-time market data & order books.
Set custom price notifications & reminders.
24/7 Live chat support & help center.
---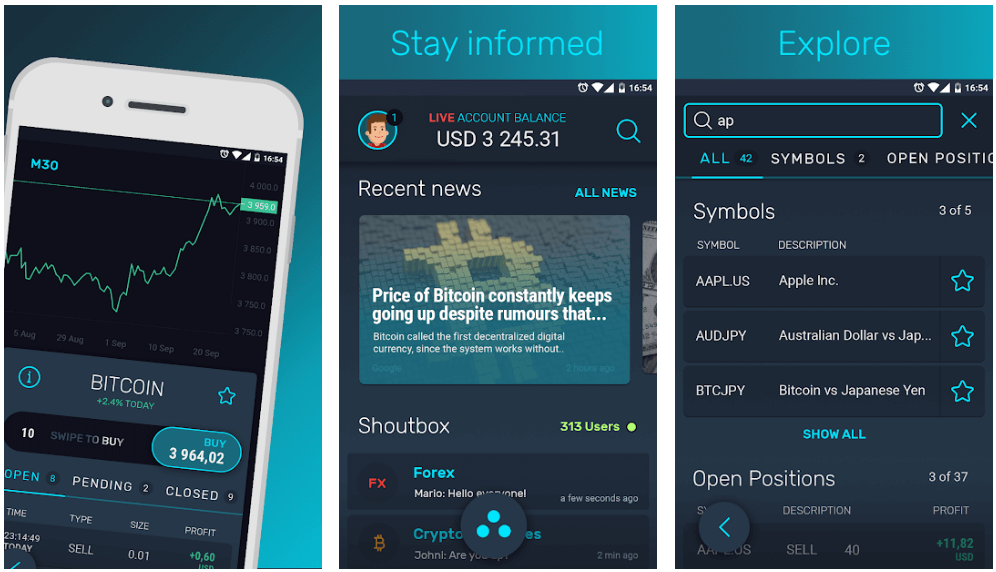 SimpleFX is a trading platform, providing fast advanced technology, great spreads, and transparent conditions. This platform is highly competitive when it comes to trading traditional markets using Bitcoin. And it is one of the most powerful platforms offering CFD crypto and forex trading tools.
SimpleFX offers you a simple but powerful mobile trading app that lets you enjoy all the same intuitive CFD trading tools and features of your account wherever you are.
Traditional currencies, cryptocurrencies, indices, commodities.
Various deposit methods, both traditional and cryptocurrencies.
Stay anonymous with cryptocurrency only accounts.
Live chat with fellow traders from over 130 countries.
Availability and flexibility with 24/7 online support.
---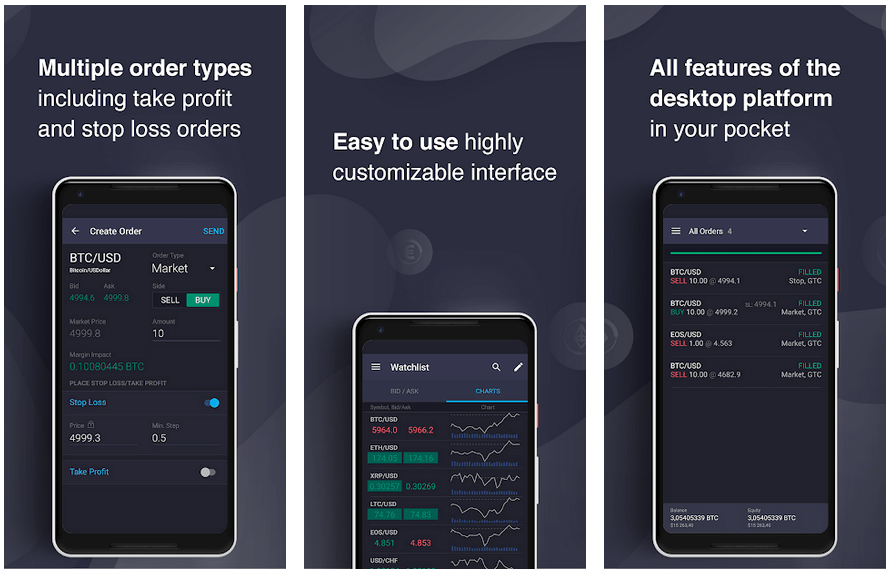 PrimeXBT is a technologically advanced trading platform suitable for both beginners and advanced users. This platform offers pretty much everything you could ask for, from Bitcoin-based accounts to 30+ assets to choose from, including traditional markets as well. The account creation is completely anonymous and with 100x leverage, the possibilities to maximize your gains are quite literally endless.
PrimeXBT mobile application brings a powerful trading platform everywhere you go, while maintaining security, liquidity, enabling safe account handling, and allowing access to the world financial markets on the go.
Trade crypto, forex, commodities, and stock indices.
Anonymous 100% private no-KYC Bitcoin-based accounts.
Multiple order types including Limit, Stop Loss and Take Profit.
High leverage, fast order execution, low fees, and intuitive interface.
---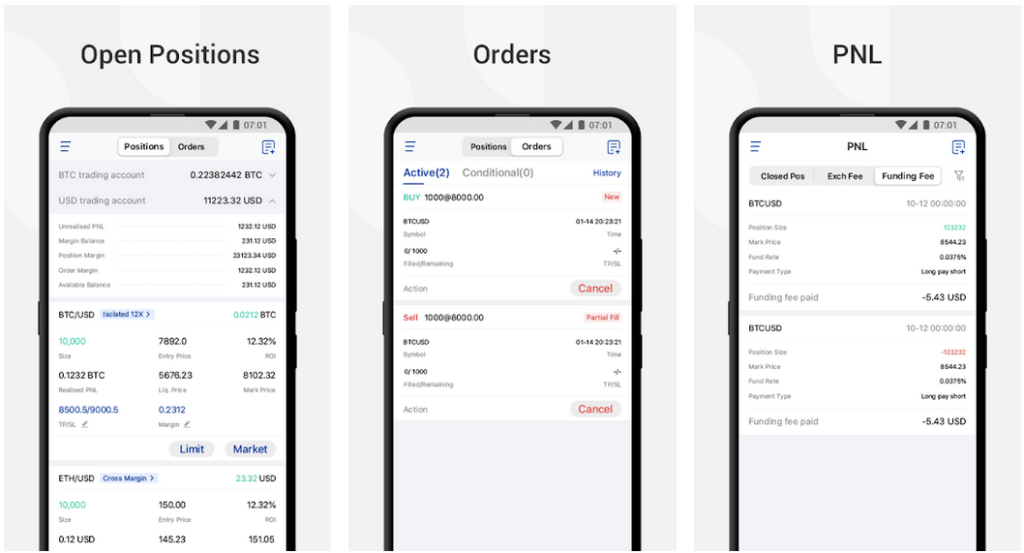 Phemex is still a quite fresh global cryptocurrency derivative exchange offering Bitcoin, Ethereum, XRP, Litecoin, and EOS perpetual contracts, with up to 100x leverage.
The platform was founded by 8 Ex-Morgan Stanley Executives it is currently looking to expand for traditional markets with promises to bring in support for products such as S&P 500 stocks, stock indexes, interest rates, FOREX, and more.
Phemex mobile application brings you all the necessary options for your porfolio handling from opening positions to order executions.
Multiple perpetual contracts: BTC/USDT, ETH/USDT, GOLD/USDT, and more.
Limit, market, and conditional orders.
Trade with high up to 100x leverage.
24 x 7 multilingual live customer support.
---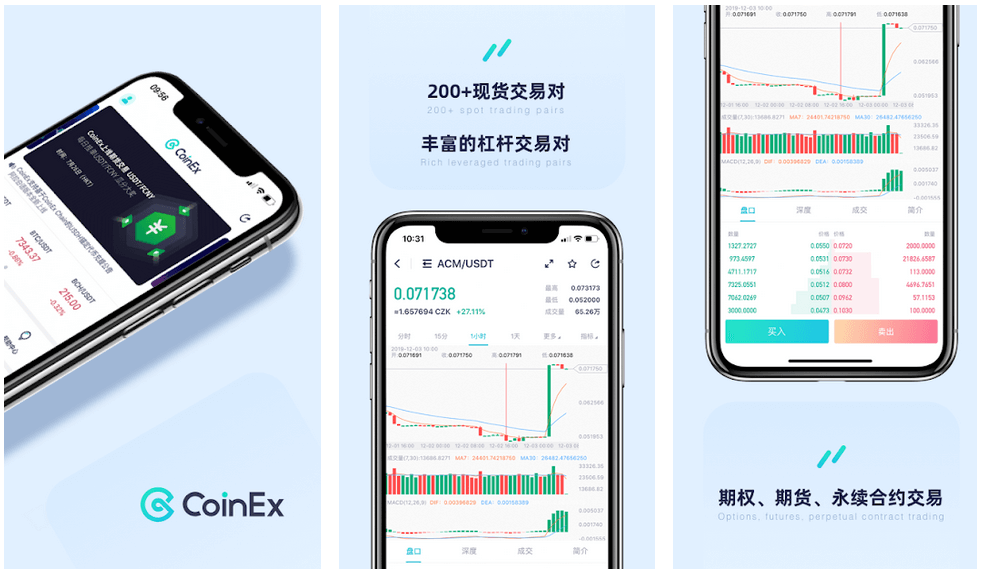 CoinEx is a global digital currency exchange providing derivative trading with a large variety of coins you can trade using margin, the platform also has up to 4 different coins with perceptual swaps, this includes BTC, BCH, ETH, and LTC. On top of this, Coinex has an intuitive easy to use platform and non-KYC standard.
Founded in 2017 with Bitmain-led investments, Coinex provides professional cryptocurrency experience and services, with stable performance, high security, that millions of users in over 100 countries trust.
Meet CoinEx cryptocurrency trading app.
100+ cryptocurrencies+ high-speed matching engine.
Range of derivative services, such as margin, futures, options trading.
All user assets on CoinEx will be 100% reserved & held.
---
BaseFEX is a new crypto derivatives exchange that promises to stand for original cryptocurrency values. The exchange does not ask for KYC documents, has up to 100x leverage, and offers both BTC and stable coin settlements in order to let users mitigate risks. All in all, BaseFEX seems a very promising platform going forward.
BaseFEX exchange has a deep emphasis on the original crypto value that most of us hold dear including privacy, transparency, decentralization, and security.
Available pairs: BTC/USD BTC/USDT ETH/BTC ETH/USD & more.
USDT settlement to mitigate BTC volatility.
100% Cold Storage, all withdrawals are checked manually.
BitMEX without overload, Deribit without downtimes.
24/7 Customer support with finance professionals.
---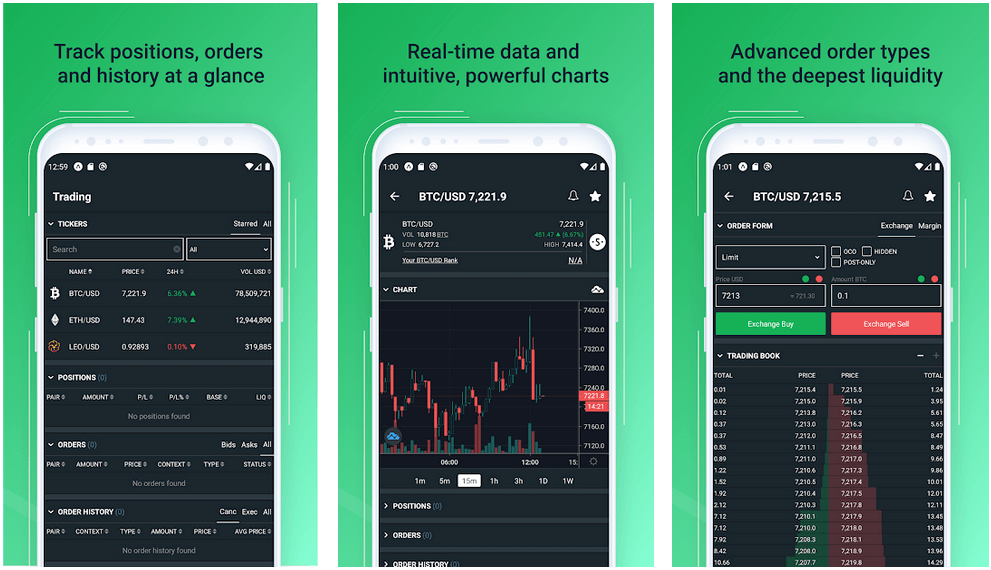 Bitfinex is not just another random exchange, it's one of longest-standing, and with many questionable accidents on the way, yet even today it has exceptionally deep liquidity on its books making it quite literally the exchange for the richest.
Bitfinex platform provides advanced services for cryptocurrency traders, and with extraordinary deep liquidity in books. Making it an enjoyable place for traders of all kinds. The Bitfinex mobile app lets you stay connected, trade, and get notifications directly from your device.
Cryptocurrency Spot and margin trading.
Charting, margin funding, wallet transfers, and deposits.
Notifications on trades, and custom price alerts.
---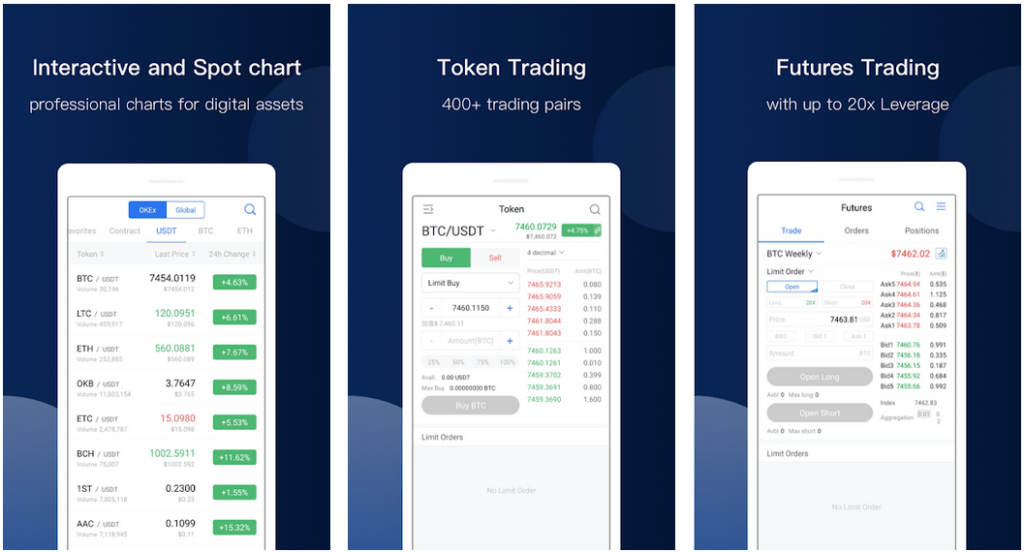 OKEX is one of the worlds leading cryptocurrency asset exchanges, both for spot and margin trading, it used to hold the first spot in volume for years until Chinese restrictions and when Bitmex still wasn't around. However, this exchange is stable and has no issues with its reputation whatsoever making it a great choice for anyone looking to trade cryptocurrencies.
OKEx mobile app is an all in one trading platform for cryptocurrencies. You can trade, get real-time quotes, manage your accounts and more. OKEx app provides professional transparent and comprehensive experience on mobile and goes wherever you go.
BTC, ETH, LTC, XRP, EOS,ETC,BCH,BTG Futures trading with up to 20x Leverage.
400+ trading pairs in BTC, ETH, and USDT markets.
Spot and margin trading with up to 3x leverage.
Deposit & withdraw at any time, anywhere.
24/7 and Multi-language customer support.
---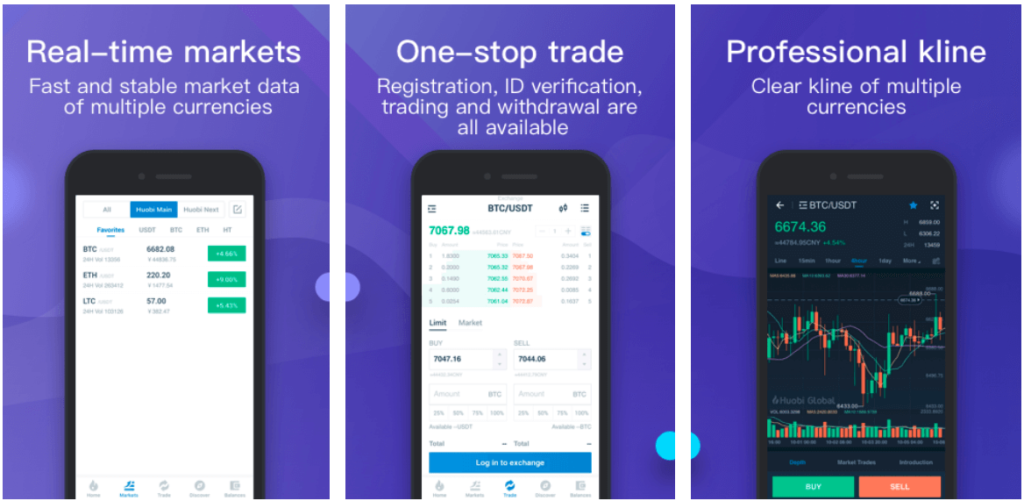 Huobi is another one of the world's leading exchanges when it comes to Bitcoin spot and margin trading. This exchange is another older still highly performing cryptocurrency platform. Huobi is a strong second to OKEX in volume and has been providing stable services for years with a good reputation.
Huobi global mobile application has a variety of features making it an ideal place to buy, sell and trade digital assets.
Multi-currency trading: LTC/BTC, ETH/BTC, BTC/USDT, and many more.
Professional charts and index analysis with real-time prices.
Limit orders, market orders, and stop-limit orders.
Fast credit for withdrawals and deposits.
24/7 multi-language services.
---
Bittrex is one of the oldest US-based exchanges that can proudly say they have never been hacked. This platform provides a straightforward registration process, a large variety of coins to choose from and a reputable trading engine.
The Bittrex mobile app allows you take crypto trading plaform with you where you go. You can trade cryptocurrencies, maintain your portfolio with all major desktop features designed for mobile users.
Access your crypto wallet on the go.
Advanced price charts and tracking tools.
Get notifications for completed orders.
Industry-leading security practices.
---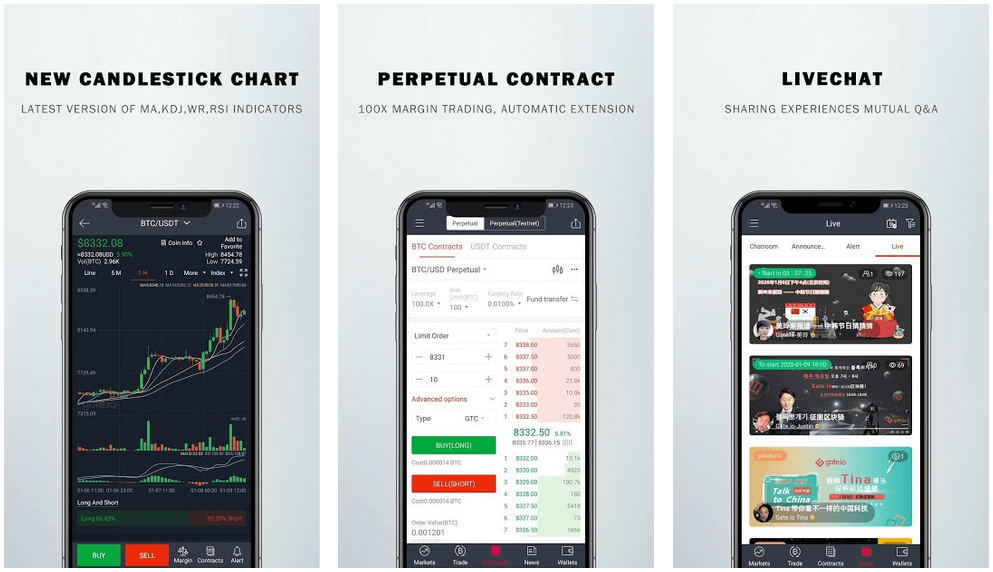 Gate.io is another great functional platform for trading different cryptocurrencies. This exchange has a wide variety of tools and options to advance your trading career, from margin to a bunch of altcoins to choose. The Exchange has a simple registration process, low fees and all in all good platform to choose.
Gate.io has been stable for over 7 years, the mobile application has plenty of innovative technologies and thrives to offer the best experience letting you trade from anywhere you go.
Advanced, yet easy and simple to use interface.
Hundreds of markets, real-time charts, and price alerts.
Margin trading, spot, and perpetual contracts.
Limit buy, sell, and conditional orders.
Store, trade or lend cryptocurrencies.
---
BitMax is a sleek USDT focused margin trading platform. This exchange offers a variety of different altcoins to choose from which you can trade against USDT and via margin, it has great volume and easy to learn interface.
BitMax provides an innovative mobile digital asset trading platform, that includes OTC, fiat to crypto, crypto to crypto markets, and with margin trading all on the go.
More than 100 tradeable digital assets including BTC, ETH and BTMX
Access spot, margin, futures, trading with all major order types.
Exclusive investment, lending, and staking products.
---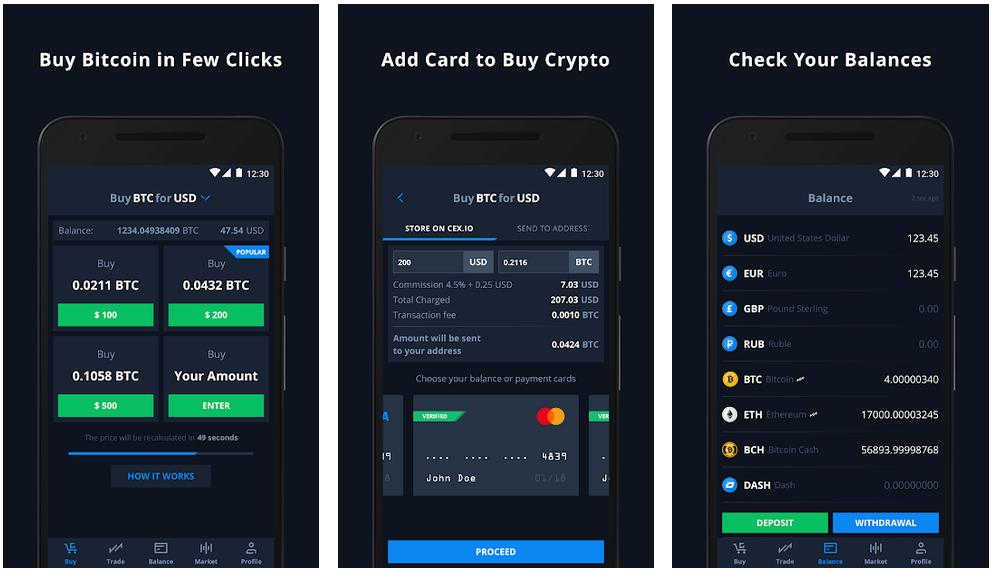 CEX.IO is one of the oldest Bitcoin exchanges around, it's global, stable and offers both simple, easy to use interfaces for both buying and trading Bitcoin and few other cryptocurrencies.
The CEX.IO mobile app allows you to trade, sell, and buy Bitcoin and other cryptocurrencies instantly, anytime and anywhere.
Instant crypto purchases with a few clicks using your debit/credit card.
Instantly deposit and withdraw funds from anywhere.
User-friendly interface, with market and limit orders.
24/7 support for easy access to professional assistance.
---
eToro is the world's leading social trading platform. This exchange is more focused on the traditional side, yet they do include cryptocurrencies such as BTC, ETH, LTC, and XRP. The unique thing about this platform is that you can copy-trade other profitable traders possibly making a great passive income.
The eToro mobile application provides access to all major features including real-time execution trading, unlimited withdraws, copy trading and more.
Buy Bitcoin, Ethereum, XRP, and more cryptocurrencies.
Engage, connect and become part of the thriving social community.
Real-time market orders and unlimited daily withdrawals.
Copytrade other people's crypto portfolios.
Get customized price notifications.
---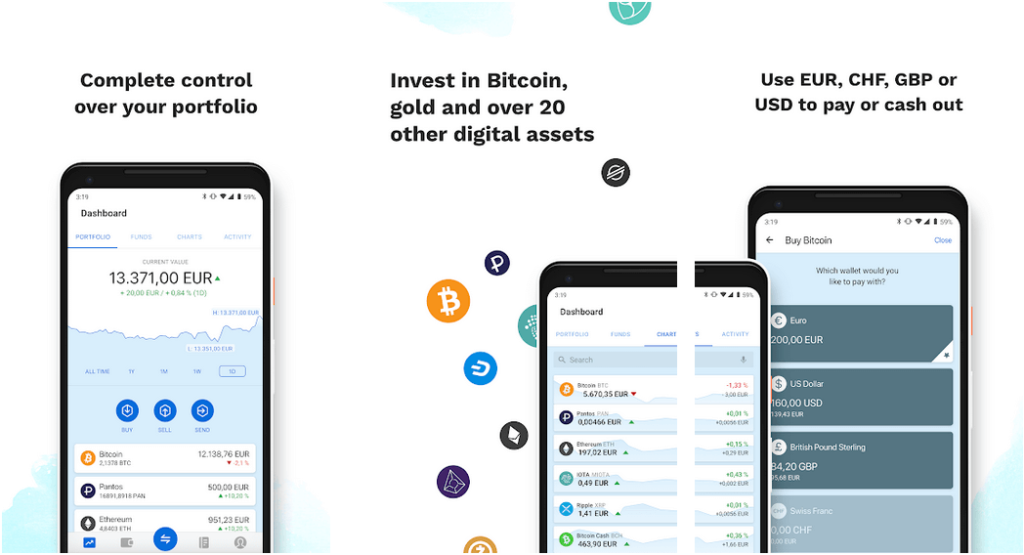 Bitpanda is one of the European most popular choices to buy, sell and trade cryptocurrencies. This exchange has been around a while and has proved to be one of the most reliable places around. They have a large variety of payment methods to choose from like credit card, Neteller, Skrill, Sepa, Amazon and many more.
Bitpanda is all about ease of use and is a great starting platform for beginners. The mobile app goes where you go, giving you total control and all the necessary tools for cryptocurrency portfolio handing.
Buy, sell, swap or send Bitcoin, Ethereum, gold and over 20 other digital assets.
Set up savings plans to regularly invest in digital assets.
Select from a wide range of payment methods.
Cashout on variety of fiat currencies such as EUR, CHF, GBP or USD.
---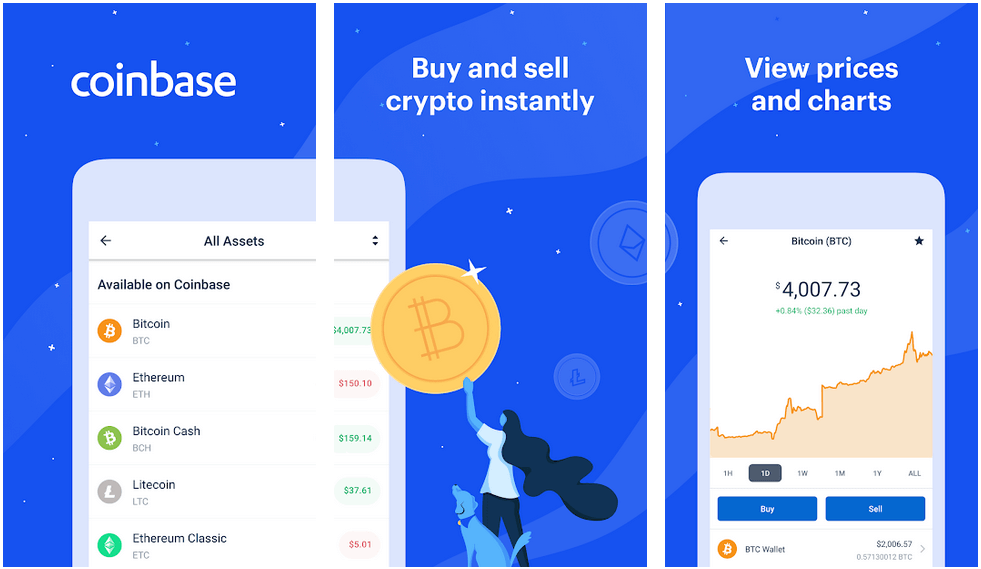 Coinbase has the largest hot wallet in the industry, operating in over 30 countries and securing more than 20 million customers worldwide. This exchange was founded in 2012 by Brian Amstrong and is widely known as one of the easiest exchanges for purchasing and trading your Bitcoins.
Coinbase user-friendly mobile app allows you to securely buy, store and sell cryptocurrencies like Bitcoin, Ethereum, Litecoin, and many more.
Buy BTC, BCH, ETH, ETC, LTC and more simple and fast.
Manage portfolio, and price alerts anywhere.
Beginner-friendly platform.
---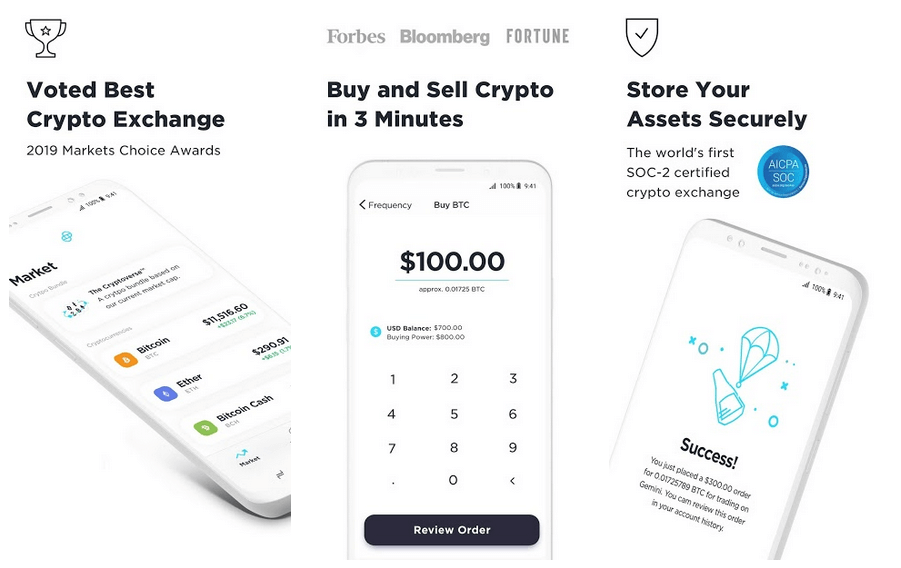 Gemini is based in the US and was founded by Cameron and Tyler Winklevoss. The exchange is an excellent way to purchase, store and sell Bitcoin. And the number of coins these two owns makes it quite literally one of the most secure exchanges around.
Gemini mobile application allows you to securely buy a variety of coins, including Bitcoin & Ethereum, you can set recurring buys, build your crypto portfolio, and execute trades flawlessly on the go.
Buy BTC, ETH, BCH, LTC, and more instantly.
Recurring buys, and price alerts.
---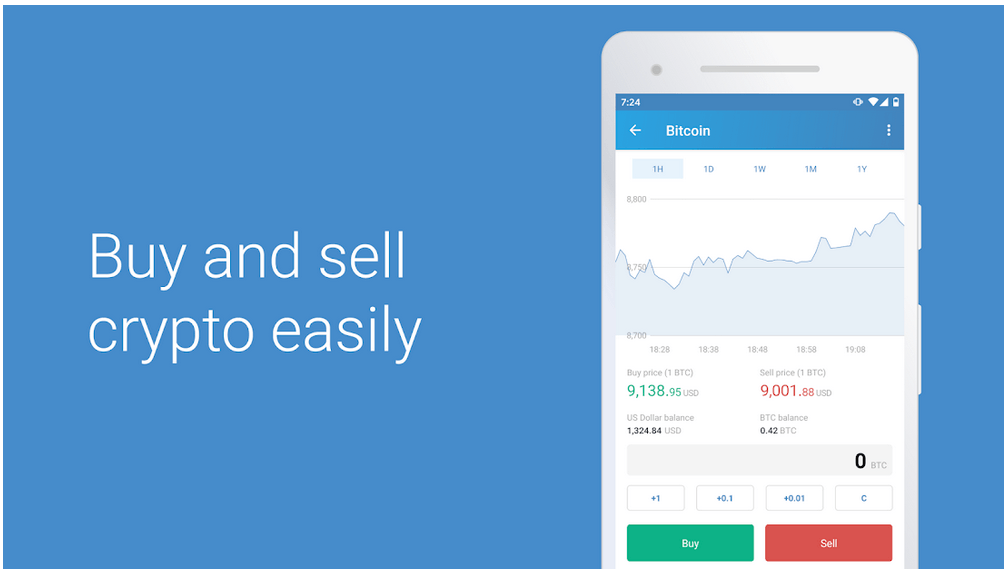 BitFlyer is one the largest & leading crypto exchanges by volume in the world, not only it has the largest volume in Japan, and with global volumes reaching over 250 billion in 2017, but it also has licensed operations in Europe, and the US.
Bitflyer mobile application lets you buy, sell and trade with just two clicks, 24 hours a day, 365 days a year.
Spot trade currency pairs, such as BTC/JPY, ETH/BTC, and BCH/BTC.
Check price data and transaction history.
---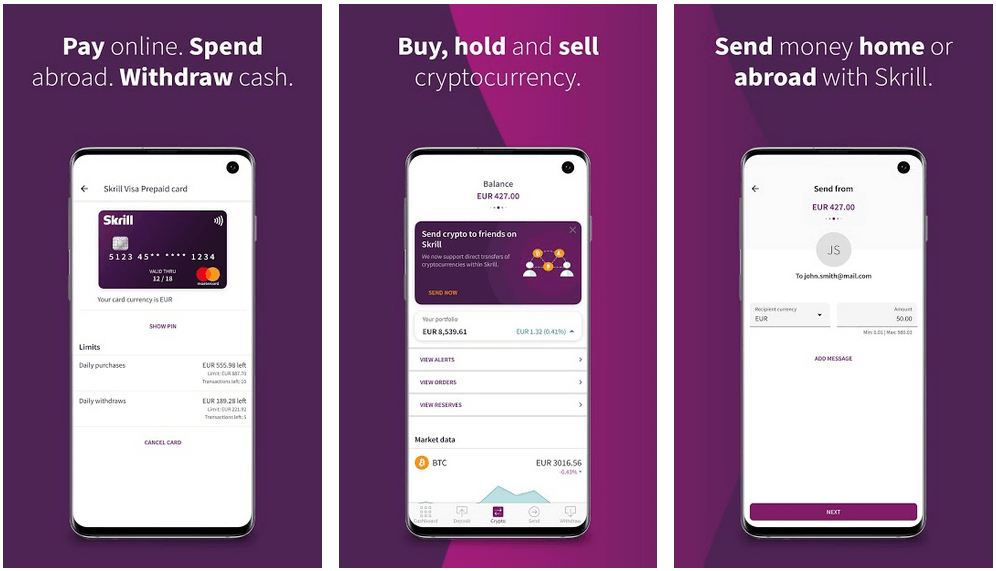 Skrill makes it easy for anyone to instantly convert +40 fiat currencies into Bitcoin and other cryptocurrencies. The platform also lets anyone purchase cryptocurrencies with over 100 alternative payment methods. On top of this Skrill also offers prepaid Mastercard which you can fund using Cryptocurrencies!
Easily buy, sell, and transfer crypto and 40 other currencies in your Skrill account.
Get a Skrill Prepaid Mastercard to withdraw cash from thousands of ATMs.
Load funds to your account via multiple payment methods, including cryptos.
---
Related & Notes
To learn everything about trading, check our article:
More useful trading related articles: