Whether you are looking to start a blog, eCommerce site, or any other business, one of the best ways you can spend your Bitcoin is use it to purchase Bitcoin web hosting, and for this, you need to find the best companies offering these services.
There are also many obvious benefits when choosing to use Bitcoin as a payment method for this. Bitcoin transactions are faster, and fees are lower, as there are no unreasonably high credit card fees, and no middle man.
Bitcoin can also maximize your anonymity and freedom of speech, as it's nearly impossible to extract personal information from a transaction made with cryptocurrency. And you aren't required to share your identity and location and no one can stop you from transacting.
These are just a few examples of why it's better to use cryptocurrencies when purchasing services over the internet.
Let's now take a detailed look at some of these web hosting companies.
---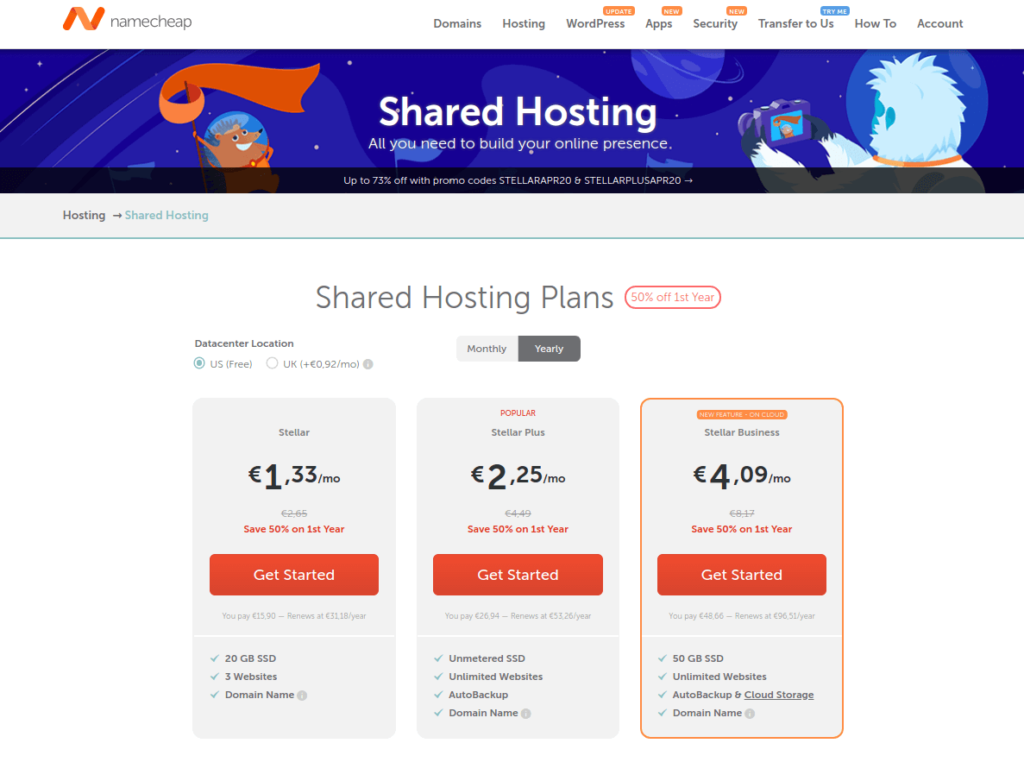 Namecheap was the world's first major ICANN accredited domain registrar service that started accepting Bitcoin as a payment method already back in 2013.
This was a very respectable choice for Namecheap to make as Bitcoin was still considered a highly illiquid and risky investment back in the day.
Namecheap company was founded in 2000 and it offers some of the best-priced products in the industry with first-year shared hosting plans starting just from €1,32/month and with the second year and forwards going for €2,64 a month.
On top of this, they have everything from reasonably priced domain names, SSL certificates, whois guard, private emails, WordPress hosting, cloud hosting, VPS hosting to dedicated servers, VPN and more.
Namecheap is not only our personal favorite, but BitShills is also proudly hosting this website on their server. (www.bitshills.com)
In addition to Bitcoin, Namecheap also accepts the more usual older payment methods such as credit cards and Paypal, which you can choose to use for their services.
Get Everything You Need with Namecheap
---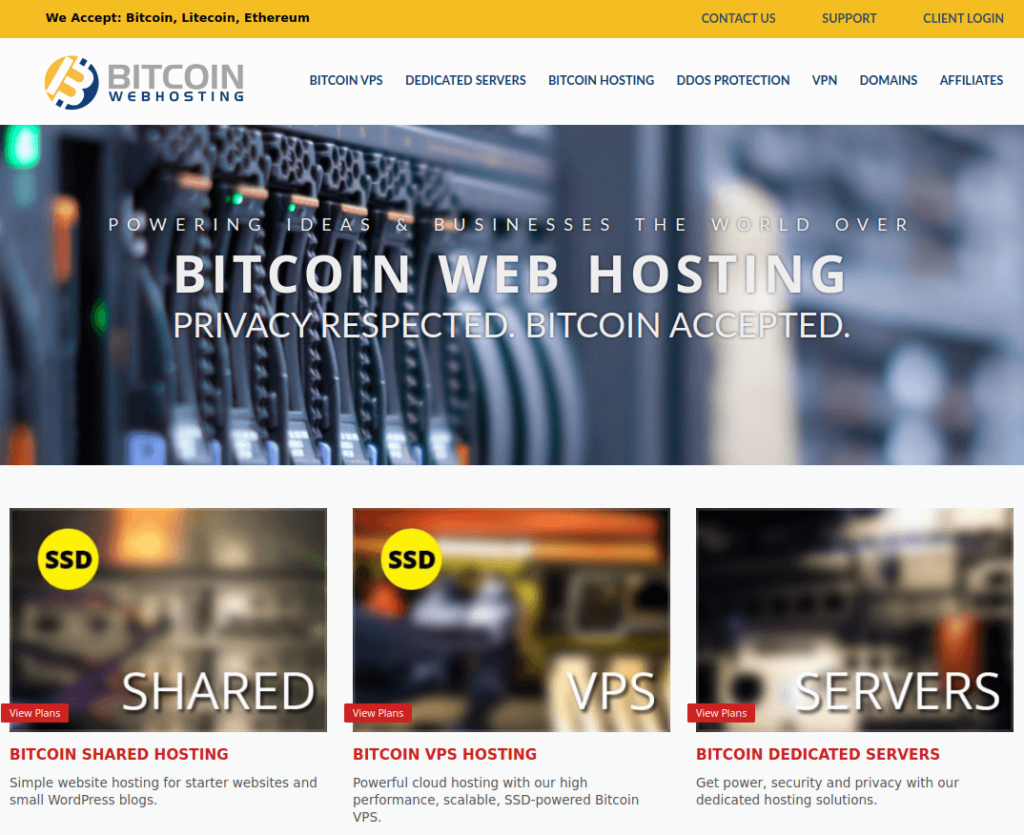 Bitcoin Webhosting is what name indicates, a Bitcoin focused web hosting platform. The company has been in the business since 2001 and started accepting Bitcoin in 2014.
Bitcoin Webhosting offers everything from Bitcoin VPS, anonymous hosting, dedicated servers, to offshore hosting locations.
Starter shared hosting plans start from $6.00per month, and with standard $9.95per month plan users get an additional free domain, free SSL, and dedicated IP:s.
Bitcoin Webhosting is the second oldest still standing Bitcoin-accepting hosting company, on top of Bitcoin, they also accept other cryptocurrencies such as Litecoin, and Ethereum.
If you've been looking into building your own website with anonymous webhosting using Bitcoin, this company is definitely worth looking into.
Instantly Deploy Servers with Bitcoin WebHosting
---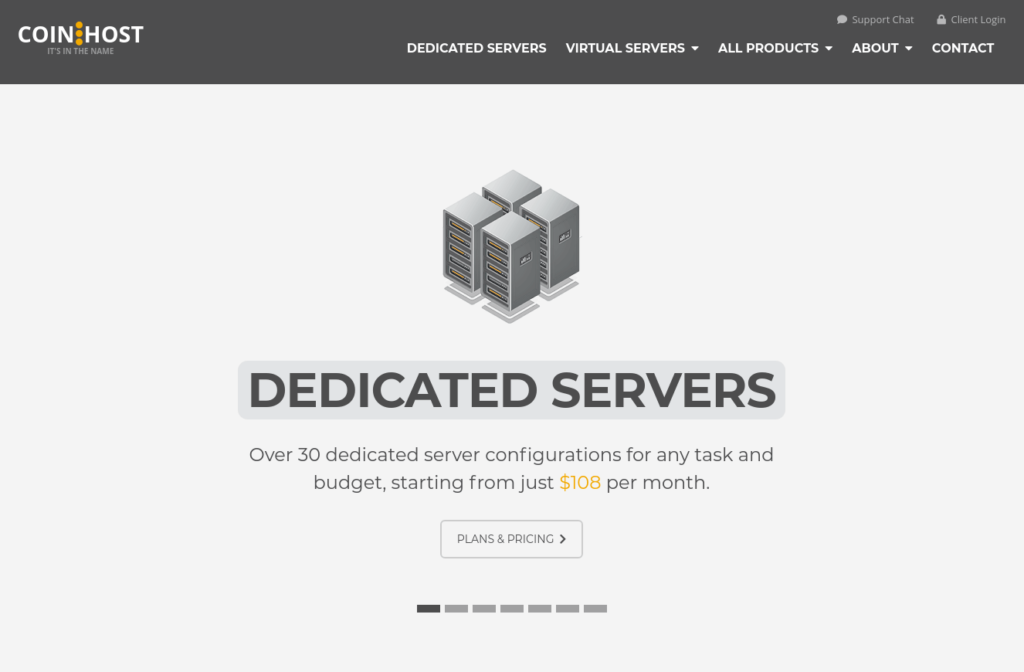 CoinHost is a Swiss-made privacy-focused web hosting platform providing solutions for crypto and blockchain communities.
The Company has been in the business since 2011, and unlike large corporations, CoinHost is privately owned and offers many advantages with its service, and convenient flexible structures, and state-of-the-art privacy & security standards.
CoinHost has everything from services such as VPS hosting, cloud hosting, and DDoS protection to dedicated servers. And with SSD, 10 Gbit/s network VPS servers starting from just $7.80 per month.
Like the name says, CoinHost accepts cryptocurrencies such as Bitcoin, Ethereum, Tether, and many others. And besides crypto, they also accept PayPal, credit cards, and range of other older digital payment methods.
---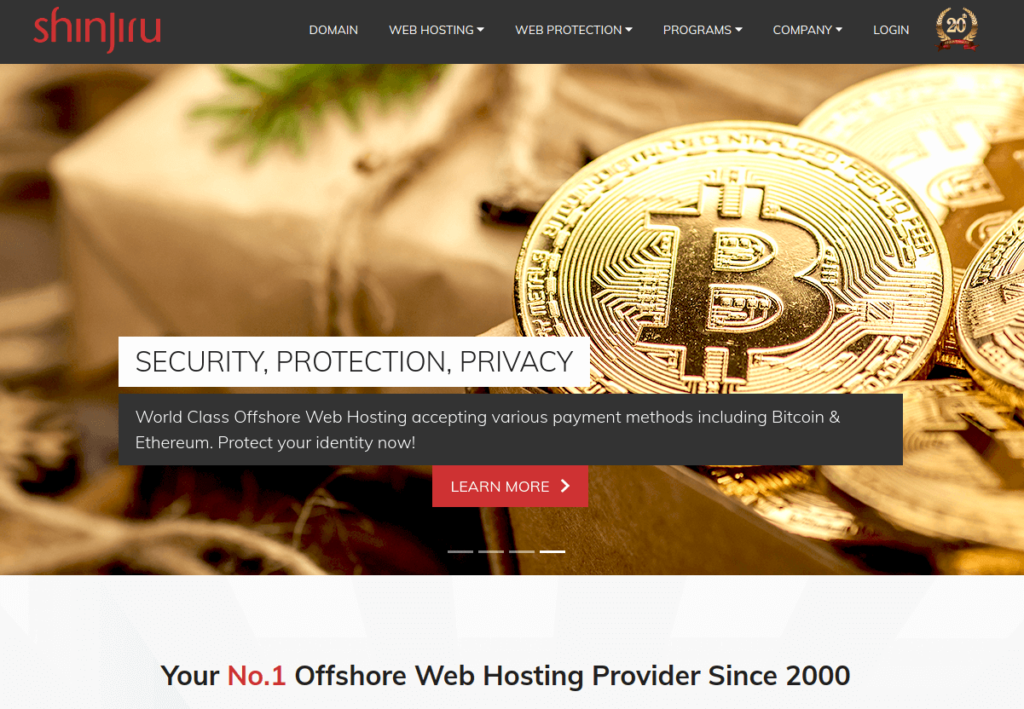 shinjiru is and offshore web hosting company on a mission is to protect the privacy and fundamental human rights. shinjiru was founded in 2000 and with offshore services in over 8 locations, it is one of the leading most experienced anonymous providers in the world.
shinjiru offers everything from anti-DDoS attack networks, thousands of dedicated servers and IP addresses, and much more. Not to forget it is an ICANN accredited domain registrar.
And with budget Linux offshore hosting starting as low as $3.95 a month, and basic VPS starting from $11.90 a month it is an affordable choice as well.
shinjiru has various payment methods accepted with anonymous Identity including Bitcoin, and Ethereum. For additional older payment methods, they accept wired transfer, PayPal, credit cards, and perfect money.
---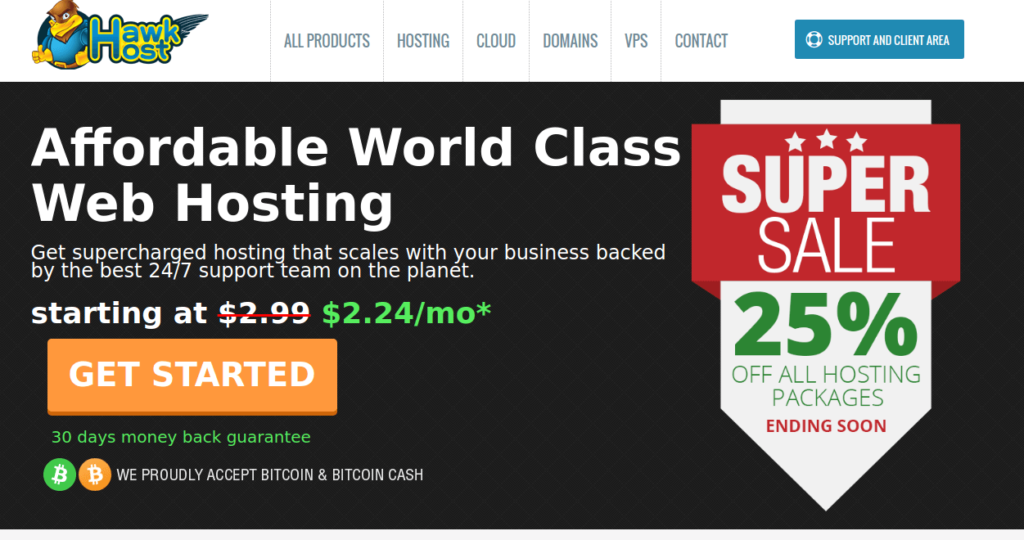 HawkHost is an affordable hosting provider with a variety of services, including shared hosting, reseller hosting, virtual hosting, semi-dedicated server, and domain register.
The Company was founded in 2004, they have servers around the world including, Long Angeles, New York, Amsterdam, Singapore, Hong Kong, and more.
HawkHost is also proudly accepting cryptocurrencies with a 30days money back guarantee, including Bitcoin, and Ethereum, and with shared hosting plans starting from $4.99 a month.
---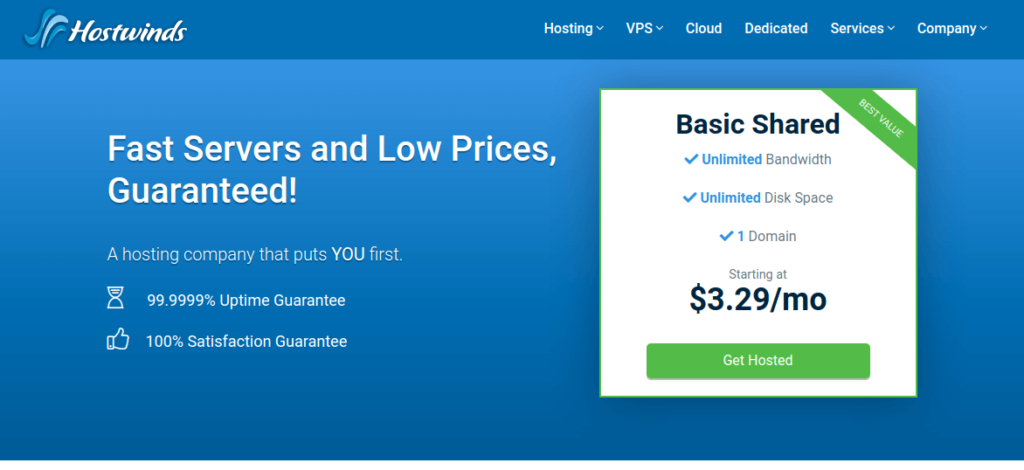 HostWinds was founded in 2010, it operates in seattle, dallas and amsterdam. The company has been awarded for it's customer satisfaction, and the platform supports fast servers with reasonable low prices.
HostWinds offers shared hosting, VPS hosting, reseller hosting, cloud hosting SSL and more. And with basic shared hosting plans with unlimited bandwidth and disk space starting from just $3.29/month.
HostWinds has a dedicated support team taking care of your every step, they are reasonably priced and accept a variety of payment methods including credit cards, PayPal, cryptocurrencies, and Alipay.
---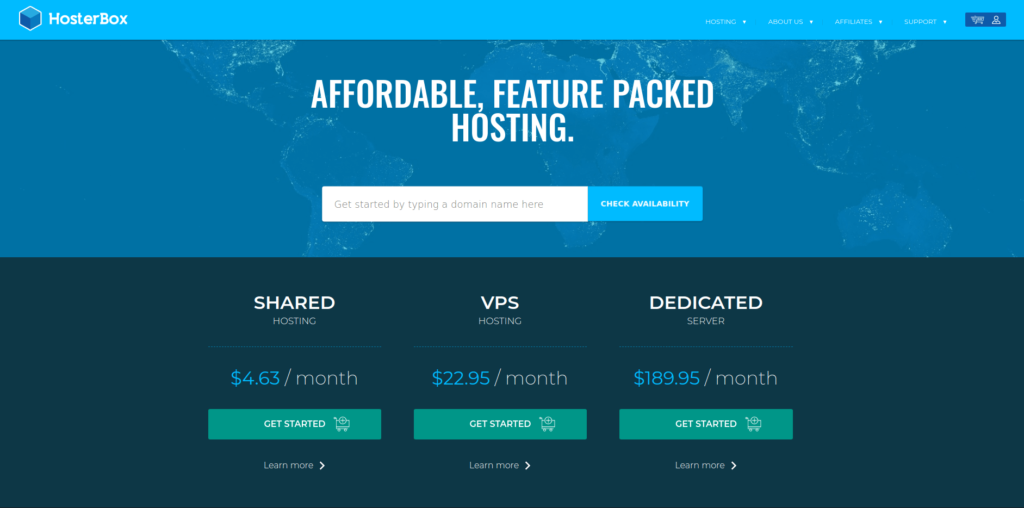 HosterBox is based on Canada and was founded in 2005, it focuses on Bitcoin web hosting services of all kinds.
The company offers guaranteed 99.9% uptime, with 24/7 monitoring and support, with affordable prices, and a 30-day money-back guarantee.
Services include shared hosting, reseller hosting, WordPress hosting, VPS, and dedicated servers and more. With shared hosting plans starting from just $4.63 / month.
HosterBox accepts Bitcoin as a payment method, together with older methods such as Paypal, Visa, and Mastercard.
---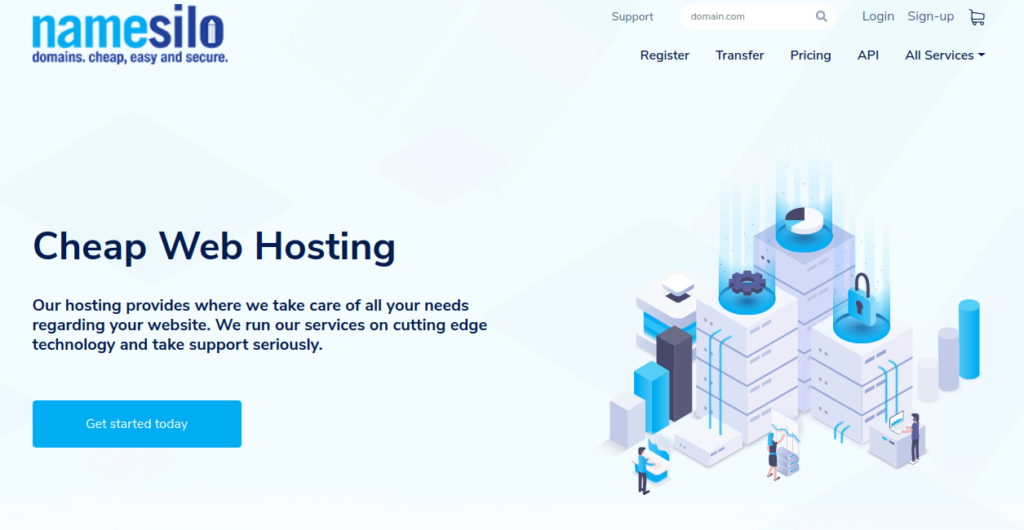 Namesilo was founded in 2008, it is one of the fastest-growing ICANN registrars with some of the cheapest domain names on the internet. The company has put a lot of focus into domain services, users can register, transfer domains, and auction them on the marketplace.
On top of that, other services include free domain privacy, SSL certificates, gsuite email, and shared hosting with plans starting from just $2.39/month making it one of the most affordable hosting providers as well.
Namesilo accepts a variety of payment methods, including credit/debit card, Paypal, Alipay, Wire transfer, cryptocurrencies and more.
Get Started Today with Namesilo
---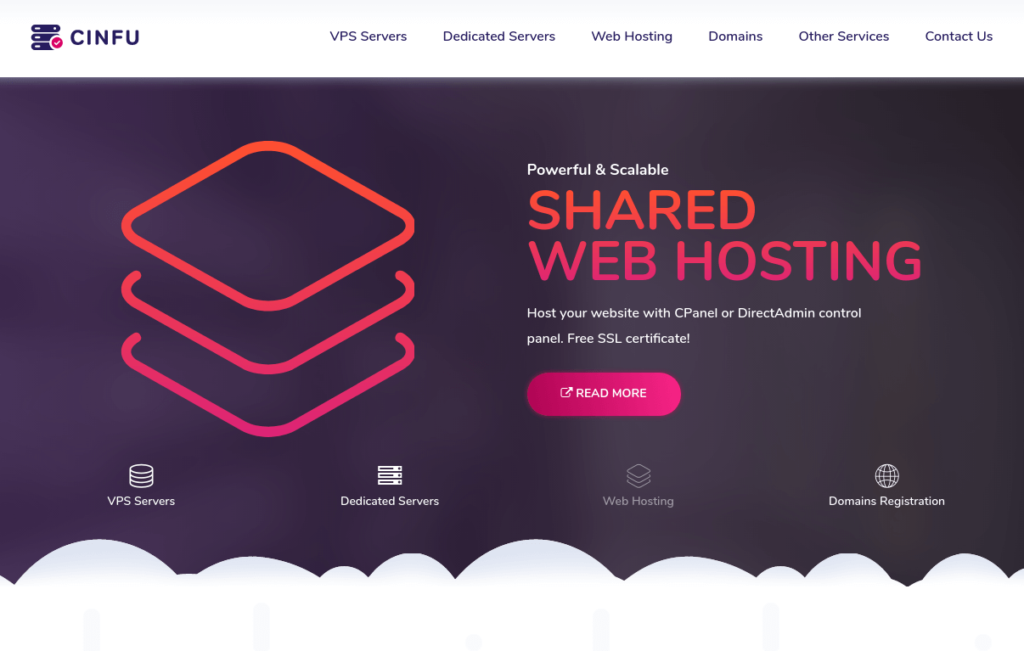 Cinfu is a dedicated VPS and hosting provider with servers in five different locations. Founded in 2011, Cinfu provides extremely low prices with several different hosting options and services including, dedicated servers, VPS servers, shared hosting, and domain registering.
Cinfu shared hosting plans start from just $0.65/month, and it includes free SSL and unlimited domains, with limited disk space of 1GB, however, ramping up the disk space to 10GB and you are still paying just $2.82/month making it extremely affordable.
The company also accepts over 50 different payment options including credit cards, Paypal, Bitcoin, Litecoin, and a variety of other cryptocurrencies.
---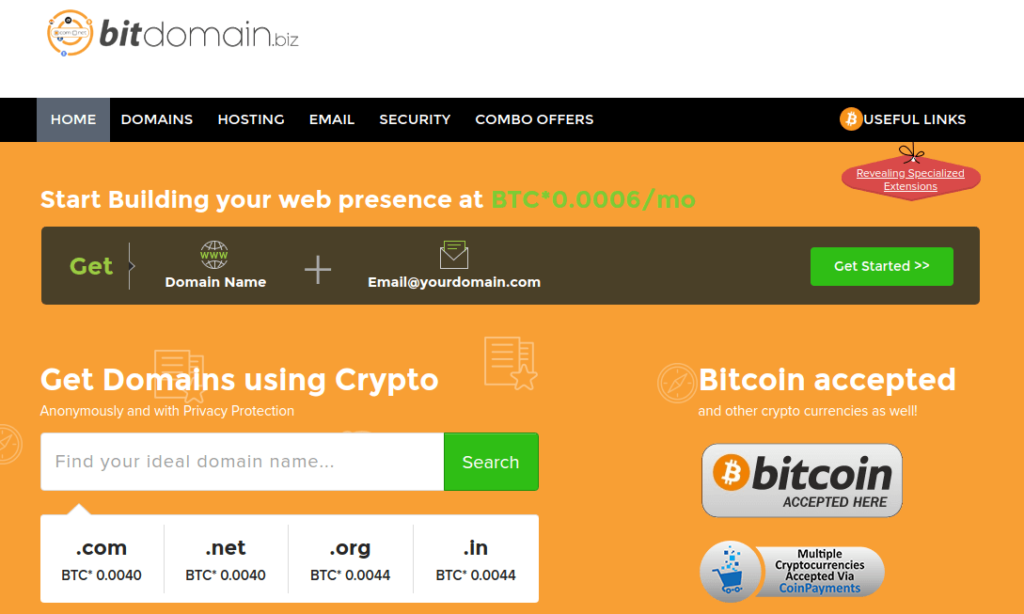 BitDomain is a privacy and crypto-only focused dedicated server and domain name provider.
BitDomain has put a lot of effort in providing truly anonymous domains and takes your privacy seriously. They offer everything from business emails, and domain registration, to shared hosting plans and dedicated servers.
All BitDomain prices are based on Bitcoin making it easier to see straight away how much you are spending coins, and with shared hosting plans starting from just BTC*0.0007per month.
On top of accepting Bitcoin BitDomain accepts a variety of other cryptocurrencies through Coinpayments.
---
Conclusion
These are our handpicked hosting services, and there are also countless other smaller providers offering bitcoin as a payment method.
It's important to note, proper research is needed when deciding which company to trust your precious website and data with, however, be assured all companies mentioned in this post have proved to be good and reputable in the industry.
That being said our personal favorite, and where BitShills is hosted is still Namecheap as it has stood through the tests of time, and offers everything one could ask for, and more.
What Bitcoin-accepting hosting companies you think are the best?
If you think we missed something or should include feel free to get in touch.
Here's some other articles that you can read next: