Cobo Vault is a truly secure hardware wallet designed for managing multiple different cryptocurrencies, in a way that ensures the device itself is 100% offline, and air-gapped at all times. Meaning it cannot be connected with any other devices or machines through USB nor using wireless technologies such as WIFI, Bluetooth, or NFC at any point in time.
And Instead, it uses its camera as the only connection to the outside world by taking pictures of the QR codes to sign cryptographically verified multi-signature transactions.
---
Introduction
Cobo Vault is part of a family of an impressive truly secure hardware tools, with the main device being 100% fully air-gapped verifiable hardware wallet, that doesn't require connection with any other devices or machines, and nor it has wireless capabilities for hackers to use, such Bluetooth, NFC or internet connection in any shape or form.
This way users can ensure that all the regular attack surfaces have been eliminated completely, yet they are still able to spend funds that the device holds without the slightest worry of malicious cables of other hackable routes.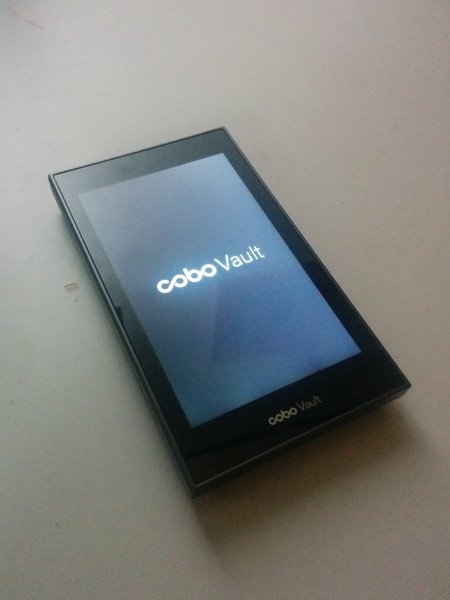 Cobo does this by using its camera as the only connection to the outside world. By scanning QR codes from the smartphone app or electrum desktop wallet to sign cryptographically secure multi-signature transactions.
Cobo also comes with a separate battery compartment, that can be detached and charged totally separate from the device itself. This is to ensure that not even battery corrosion can do harm to the device. And not only that, in order to use and update the device, the firmware needs to be loaded into a separate SD card, that goes into the back of the device.
Cobo Vault is also self-destructive, so if hackers try to tamper with the CPU, the device will self destruct and only the user with backup seed phrase can then recover the wallet itself.
To do this Cobo family also has an option for separate metallic Cobo Tablet that ensures your backups don't get lost or destroyed like a sheet of paper would, for example, if it got in touch with the natural forces such as getting wet or it did burn in a fire.
---
What's in the box?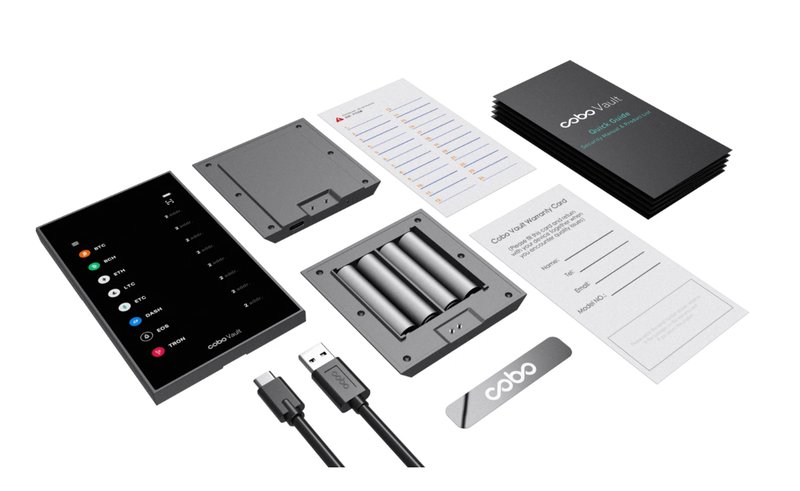 First off when opening the package, you will straight away notice the luxurious design and fresh smell of the unused product that comes within. The whole package is also sealed with tamperproof stickers, so you know right away that you have a genuine product.
After opening the package, you'll find two compartments, with a chargeable battery and the device packed separately, and below these are all the other parts and tools.
The Cobo Vault Pro package involves the following material:
Touchscreen hardware device
AAA+ battery support + chargeable battery
USB charging cable for the battery
Warranty card + quick guide
Note that this is a Cobo Wallet Pro, depending on which package you choose the content may vary, the ultimate package also includes Protective case, charging dock for the battery and Cobo tablet for seed backups and storage against natural forces.
If you want to learn more about how Cobo tablet can protect your Cobo Vault, read our previous review, as it goes through testing the tablet by burning it in a wooden oven.
---
Features
The Cobo Vault is built to secure your keys from all known attacks, this means by default it lacks a number of features usually in place with the usual hardware wallets. However Cobo does one thing extremely well, and that is the security itself, and because of that, it could almost be considered the Lamborghini of hardware wallets.
Because of this, you won't get the pleasure of USB connectivity, like Ledger Nano, Keepkey, and Trezor competitors offer. And this is the exact point of Cobo Vault, as there is no physical or wireless connection to the outside forces it leaves the device much less attack surface to exploit.
However, this doesn't mean the Cobo family doesn't have variety of extra features to tinker around. Because depending on which package you choose the device will ship with a number of extra features, such as Cobo tablet, or Cobo protective case that claims to be indestructible even if a tank was to drive over it.
And if you choose to go with the most expensive version (ultimate) the device comes as IP68 rated, which means it is water-resistant and can survive up to 1.5m of underwater for at least 30 minutes.
Cobo Vault also has multiple different inbuild security features to protect your coins, including wallet passphrase, lock pattern, and fingerprint sensor.
The Cobo Vault also comes with a choice on whether you want to use it as a multi-coin wallet by using the regular Cobo phone app or connect with an Electrum desktop wallet, Bitcoin-only firmware version that minimizes the code base and attack surface.
Note that Electrum Bitcoin wallet is by many considered the most secure open-source Bitcoin wallet to this day, and by having access to sign transactions through electrum and Cobo with simultaneously limiting all of the risks of being attacked in the middle of the transaction is actually quite incredible.
Here's a short introduction video on how signing trasactions happens with Cobo Vault:
That all being said, when it comes to multi-coin support, Cobo still lacks in terms of what cryptocurrencies and assets it supports. With a total of only 12 coins, the number is significantly smaller than some competitors in the market.
Here's a list of the current coins included in the Cobo Vault system:
Bitcoin (BTC)
Ethereum (ETH)
Ripple (XRP)
BitcoinCash (BCH)
Litecoin (LTC)
EOS (EOS)
Tron (TRX)
Dash (DASH)
Ethereum Classic (ETC)
Decred (DCR)
Zcoin (XZC)
IiosToken (IOST)
However, Cobo does have support for over 686 Ethereum tokens, 22 Tron tokens, and 70 EOS tokens making the total number of assets over 790.
And with the constant firmware updates, like the recent Bitcoin-only update, we expect the number of cryptocurrencies included in the Cobo Vault will only increase over time.
And there's also a number of other updates in the roadmap that are worth mentioning.
Some of these updates include:
Compatibility with Wasabi Wallet & Blue Wallet
Using dice to generate keys for additional physical entropy
Multisig on the Cobo Vault companion app and Bitcoin-only firmware.
Rechargeable battery available for purchase as an accessory
Cryptocurrency on-ramp + new coin support
Staking + Defi support
Taproot/Schnorr support
U2F (2FA) Support
Open-source hardware operating system layer code
Cypherpunk version allowing people to upload their own firmware
And much more.
---
Pricing
Cobo Family has several different feature packets (Essential, Pro, and Ultimate) with each packet including different features and tools. However, each packet includes the most important part of the family, which is the Cobo Vault device itself.
And as of today(july), the most expensive feature rich packet costing little under 500$.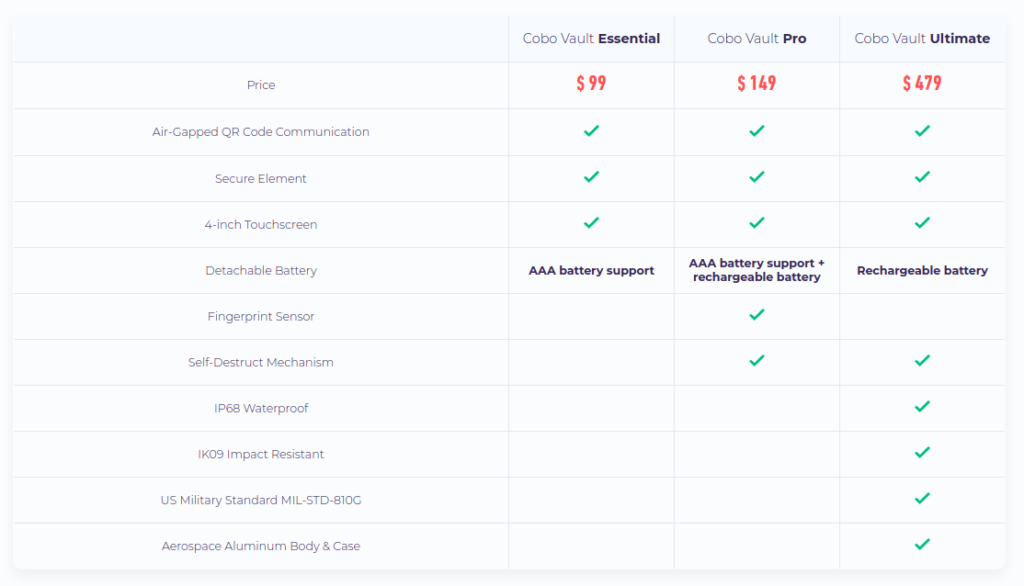 It's important to notice the differences with each of the product packets, as for example the ultimate cover everything from military-grade protective cases and Cobo tablets but then, because of the water-resistant case, it leaves out the fingerprint sensor, which is still available on the pro version.
However, you can also order separately some of these tools, such as Cobo tablets which alone cost only 39$ and is almost a necessity for protecting your backup seed phrase.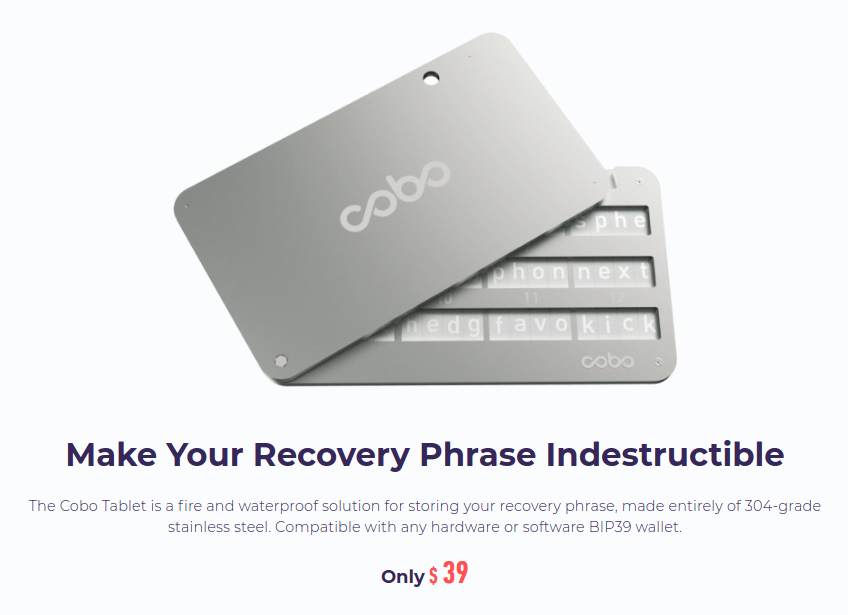 That being said we actually wouldn't suggest anyone getting just the Essential packet, as it comes with only AAA battery support, which could get really annoying over time, having to replace the batteries. And not only that it does miss fingerprint sensors, and self destructs mechanisms, which are some of the key security features.
On the other hand, If you are fine without having the wallet being water-resistant, and not having the extra protective case, Cobo Vault Pro combined with Cobo Tablet purchased separately is actually quite a deal, as you are saving almost 300$ dollars but then still getting all of the key features and some of the extras.
---
Pros and Cons
Pros
100% air-gapped, the device itself never comes in any contact with the outside world.
Can be extremely useful if you are an institutional user, who manages multiple coins.
Protection from hackers physically trying to tamper with the device.
Fully open-source firmware.
Cons
Not necessarily useful for common users, unless you are a very security conscious person.
The ultimate packet comes with one of the heaviest price tags.
Sending funds back an forth does take a bit of a learning curve.
Supports only a limited selection of cryptocurrencies.
---
Conclusion
At BitShills we don't actually use hardware wallets at all, and this is why there aren't as many reviews of them either as we prefer doing this the old way using only offline laptop and Electrum wallet. However, Cobo might just have slightly changed our perspective, as it allows us to manage and sign our Bitcoin transactions through Electrum Wallet with only scanning QR codes making it significantly easier to manage multi signatures.
Thought the extra security comes at great cost, and this is something a lot of users need to seriously consider. But of course, if you are a security-conscious person like we, then such don't matter to you in the long term. As in the end, it's the ones with assets still in their hands that keep on smiling.
That being said we've truly found Cobo vault to be a desirable product, however for average users day to day use, Cobo probably isn't as useful since it is a bit unfit for this purpose.
This is not to say it's a bad product, but that it's intended to be used for securely storing and managing larger amounts of long term offline cold storage holdings. Meaning it is best to be used as your most secure option to transact and store your coins that don't move very often.
To learn even more about Cobo, here's a short introduction video that you can also watch:
Full Disclosure: The Cobo Vault was provided by Cobo for the purpose of the review.
---
Related Articles