Learn how you can earn free Bitcoin by simply doing your usual browsing on the internet.
The cryptocurrency world is full of some of the most unique projects providing you loads of different passive crypto income opportunities. And these two are no different as they let you earn free Bitcoin by simply doing your usual searching and browsing on the internet!
These two platforms are called the Brave browser and the Presearch search engine.
The way this works is that the Brave browser automatically blocks ads and trackers while giving users a choice to earn BAT tokens, by letting the user choose whether they want the browser to anonymously monitor the user's attention or not, meanwhile the Presearch search engine rewards users with PRE tokens from simply searching the internet!
To get started earning Bitcoin by browsing the internet goes like this:
Download and install Brave Browser.
Create an account for the Presearch search engine.
Combine the two platforms together by making Presearch the default search engine on the Brave browser.
Below you will find each project with more details and a short step by step guide on how to use them in practice by combining them both for the best possible results.
---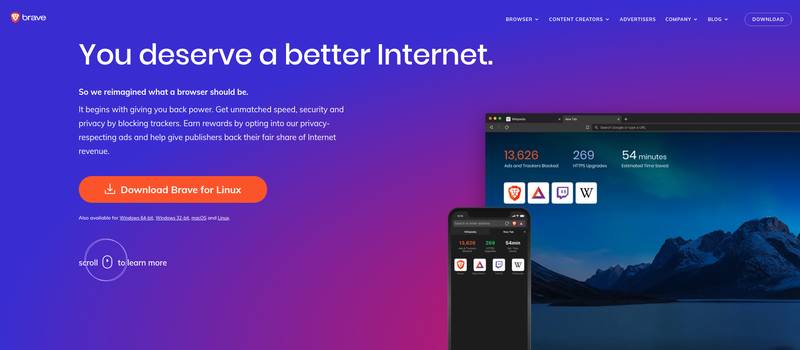 Brave is the browser of the cryptocurrency era. Similar to other browsers it lets users navigate websites, run web-based applications, display online content, and Its also free to download and use.
However, where Brave differs radically from other usual browsers is its build-in add blocking technology. The browser has an inbuilt authentication system to remember which sites users have visited without revealing this information to any third party.
Why this is extremely handy is because the users now have a choice of whether they want to anonymously support tracking of their browsing habits or not. And by allowing anonymous tracking users can get to enjoy revenue created by their attention.
And unlike normal browsers where users every move is tracked but they get zero income from advertisers this is of course great news for anyone using the internet. Not only can you stay private by design, but you can also earn (BAT) cryptocurrency on the side by doing so.
Brave Browser was created by Brave Software and it was co-founded by Brendan Eich, the creator of JavaScript and a co-founder of Mozilla Firefox.
How to get started with Brave Browser?
To get started with Brave Browser, you can simply visit the website, and download the browser for the platform of your choice. You will then install the Browser from where it's ready to go unless you wanna do the usual tweaking of bookmarks and settings, which by the way can also be imported with just a click of a mouse.
All in all, Brave browser is very easy to get started with, if you are already capable of browsing this article, then surely you can also set it up with no problems, and start earning some amazing FREE cryptocurrency rewards.
---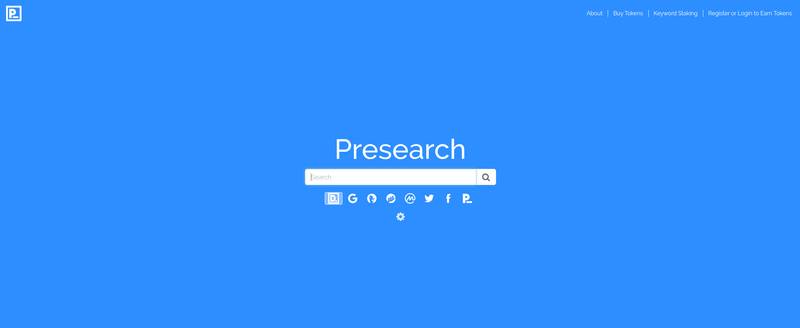 Presearch is an open decentralized search engine that thrives by rewarding the users and community members with Presearch tokens (PRE) for contributing and promoting the platform.
Search engines are the getaway to the world wide web. And the world sure deserves an alternative search engine that is open transparent and involves the community in product development.
Never before have so few organizations controlled the information flow for so many people. And this is where Presearch comes in as it is a perfect fit, that ensures real nonbiased search results, and secure getaway to the internet.
Unlike Google, and other major search engines that have had a great many years, and with their unlimited resources to become more transparent of how they use our data, and what they do with it, these organizations have become increasingly more secretive.
Not only Presearch is open and transparent with clear motives of making the internet a better place for everyone, but it also funds its operations through a transparent advertising system that enables advertisers to bid on keywords and sponsor results. These ads can be purchase using the PREs via auction, driving usage within the ecosystem.
How to get started with Presearch Search Engine?
To get started with Presearch is super simple, as it doesn't really require you to do anything other than switching switch search engine you chose to use.
However, to earn rewards from your searches it is required you create an account, in order for the system to recognize who to reward for the searches.
You can do all of the above on Presearch website.
Sign up on Presearch Search Engine!
---
Combining the two
Getting started with combining the Brave Browser and Presearch search engine is as easy as 1,2,3. Anyone can do it, and it only takes a couple of seconds!
Once you have downloaded and set up Brave Browser, registered on Presearch, we can combine the two by making Presearch the default search engine on the Brave Browser.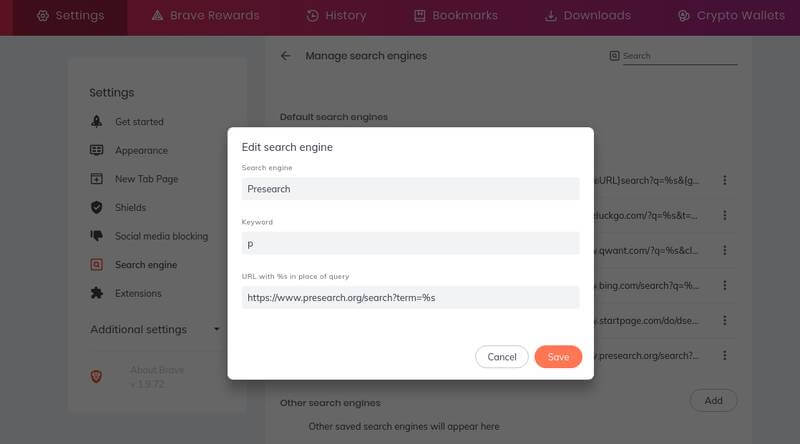 To do this, you will first head on to Brave browser settings, and locate the "Search engine" tab, which can be found from the left side of the panel, from there you can now add other search engines.
Similar to the picture above, you will then name this search engine, give it a unique keyword, and copy and paste the required URL, in the last section where it says "URL with %s in place of query".
Here is the URL required for the last section, copy and paste this into your Brave Browser: https://www.presearch.org/search?term=%s
After you've finished editing the search engine settings, click Save, and finish your work by chancing the newly added search engine to become your default for the Brave browser.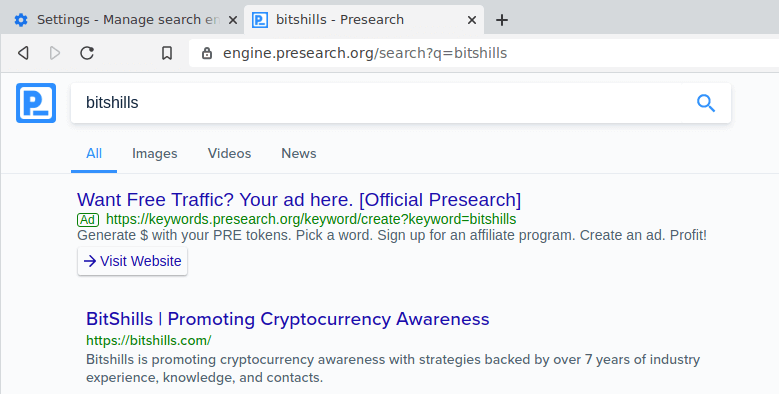 You should now have Presearch as your default search engine on the Brave browser, and it should work right away. You can try this by searching something and if everything went correctly, you will see the Presearch logo showing on the left side, whenever you make a new search.
Remember that you need to be logged in on your Presearch account in order for the search results to register as your earnings.
And that's it! you now have successfully established two new passive cryptocurrency income sources. You can now keep your profits either in BAT & PRE tokens, or turn them into Bitcoin!
Turning browsing profits into Bitcoin
In order to get your BAT & PRE token profits in Bitcoin, for each token there is a separate method that you must go through, and here is a short guide for each.
Turning BAT tokens into Bitcoin.

For Bat, you can simply verify your BAT wallet from where if you log into your uphold account, you can set rewards automatically be transferred into Bitcoin.
Turning PRE tokens into Bitcoin.

In order to turn PRE tokens into Bitcoin, you must first acquire the minimum amount for withdrawing, which in this case, is at least 1000 tokens. After you have the minimum required amount, you can simply exchange these tokens on a variety of crypto exchanges. However, the most liquid exchange for PRE tokens, and what we recommend to use is KuCoin.
---
Conclusion
Although there are countless other Bitcoin money-making opportunities, in all honestly, nothing beats something passive which you don't have to work for after the initial set up.
It's also important to note that even though, Brave claims to be privacy-focused browser, a proper Bitcoin VPN is a must-have tool for every true crypto enthusiast, and whenever you are browsing the internet while dealing with cryptocurrencies!
That being said Brave, and Presearch are definitely some of our personal favorite projects in all crypto, because of the effect they have on the common people, and how they are bridging the gap between blockchain technology and the general population.
Here's some other articles that you might find interesting: