CannerGrow – We Grow For You is a Swiss Made unique project providing you the ability to own physical hemp plants and make money with Bitcoin and Hemp CBD oil.
As people are slowly waking up from tens of years of cannabis propaganda and prohibition, the growing adoption of cannabis as a pharmaceutical product continues to develop. And the global legal marijuana market size is expected to reach up to +60 billion dollars by the end of 2025. Cannabis is actually now becoming socially acceptable again.
It all started from Uruguay becoming the first country to fully legalize cannabis, from there the wave spread to all around the United States and Canada and is now moving to Europe, where Switzerland is quickly becoming the pioneer of the industry by having the ability to grow without licenses.
However, for an average person wanting to take part in this new revolution, the choices are still few unless you live in one of those states or countries which have legalized cannabis and even then, without huge capital and knowledge you don't really have much you can do.
All the countries have different laws regarding cannabis, and to become a cannabis farmer you'll need millions of euros in capital just to get started. And, although it is widely known that cannabis plant does survive pretty much everywhere in the world, being a cannabis farmer is a lot different, and is a lot easier said than done.
There is still a huge knowledge gap to maintain and to properly cultivate plants in a way that yields profitable growth, and not even talking about electricity, lighting, and all of that.
This means that even if you had the legal possibilities the knowledge and capital are required and play a vital role to maintain such an endeavor.
What is CannerGrow – We Grow For You?
CannerGrow is a unique project founded in Switzerland that offers the world's only plant-growing-service in the entire Cannabis industry. CannerGrow lets anyone in the world to be a cannabis grower, and to become a part of this growing multi-billion dollar industry.
The company ensures customer satisfaction by strictly following Swiss quality standards while simultaneously setting new standards in the cannabis industry.
CannerGrow operates internationally, has factories in various locations and is working with regulations and laws of the respective countries.
CannerGrow – Solution
With CannerGrow anyone in the world can participate in hemp CBD production, by purchasing physical cannabis plants using Bitcoin.
The company offers this service to small investors who are starting from just one plant, to more significant investors with up to hundreds of plants.
CannerGrow plant sale is designed for everyone to be able to participate, and it has never been easier to get started with a professional cannabis growing industry.
You can get ready with just a few mouse clicks, and the farmers will take care of the rest.
This includes numerous factors such as high-quality growing areas, with lighting and precisely calculated ventilation and many other things. With CannerGrow you can be sure your plant is healthy and harvested during each grow cycle.
CannerGrow – Plant Sale
CannerGrow lets users purchase digital contracts, which represent physical cannabis plants in their grow rooms. Every purchase includes tracking of the physical trail where the cannabis plant is located, so the users can then literally walk up to the company location and ask their physical plant if they want to. You can also view a live video from the factory operating 24/7 and much more.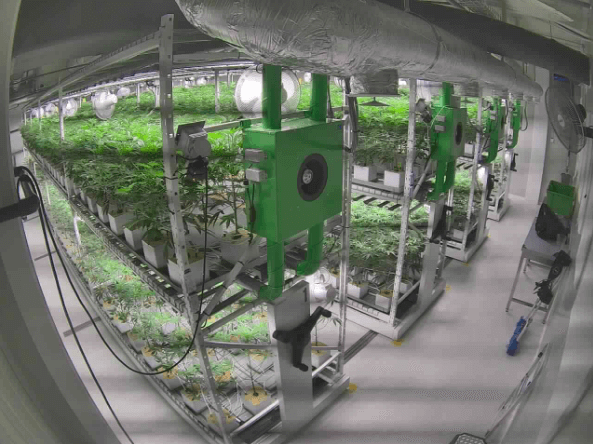 The cannabis growing cycle is such that the plants get harvested every 2-3 months, and of course, you won't need to worry about any of this, since their experts take care of the whole work for you from seed to harvests.
CannerGrow will then ship to you your harvested cannabis, or you can sell it and have significant passive income revenue.
The user gets 50% of the revenue while the other 50% goes to the farmers. This still equals around 50 to 70% annual yearly profit from original investment which is quite insane, to begin with anyway. Because for example, a good Real estate rental property can yield around 10% on average if you are lucky. Below you can see some numbers with calculations included.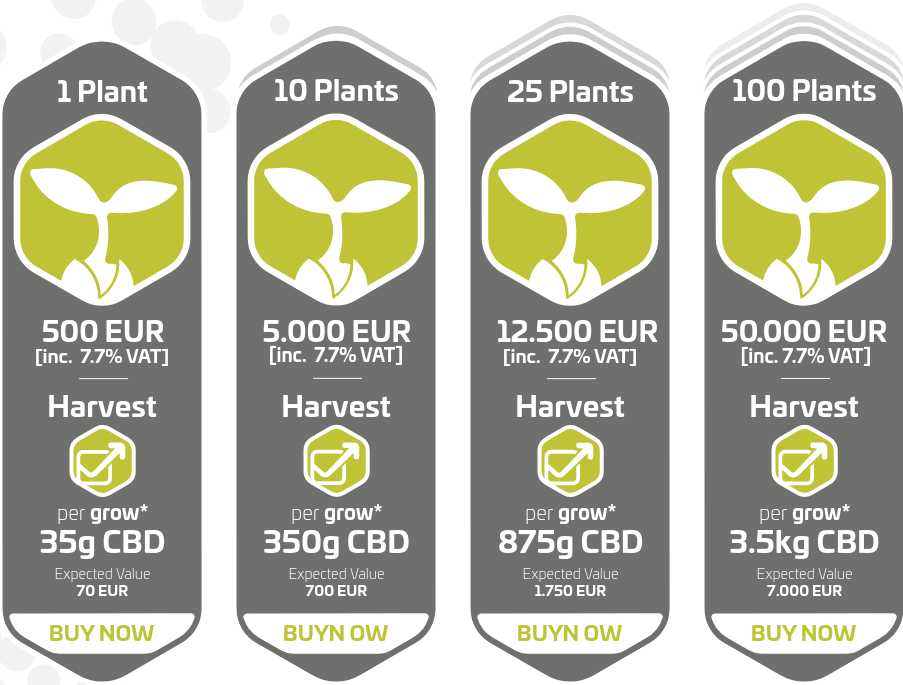 To be more exact, for 500€ you get to purchase and reserve a physical grow spot, which then gets harvested about 5 times a year. After each harvesting, the farmers plant a new one for you.
Updated June 30: Note that plant prices have slightly changed (€1000 now per plant).
However, the actual value of harvested CBD per grow compared to price stays the same or is even better. This is because the plants can now grow in bigger pots, and therefore have more room for growth, which means the yield per growing season will also be even higher.
How to get started with CannerGrow?
To get started all you do is sign up through their website, with your email and password, from there you will be able to log in right away.
It is not required but is recommended you then verify your email for protection features, we also suggest you start using two-factor authentication for additional security as well.
CannerGrow will not ask you to verify additional KYC information or any other nonsense of such if you don't voluntarily want to. You will have the ability to deposit an unlimited amount of Bitcoins, and can withdraw up to 0.5 BTC per day anyway.
Purchasing plants
After you are logged in, you'll head to buy plants section from where you will be able to decide how many plants you want to purchase.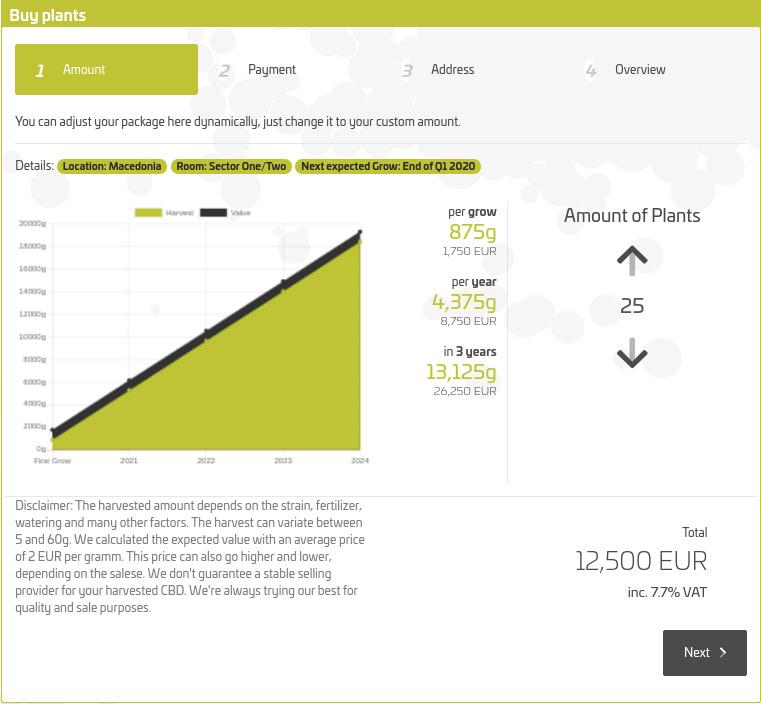 In this guide, we will purchase only two plants worth 1000€, however as you can see in the example above with just 25 plants you could make over 8,750€ a year, and over 26,000€ in the course of three years. And remember this is all passive income as well!
If you know anything about investing you can now see right away that becoming a virtual grower can be highly profitable, the ROI on these plants can be absolutely insane comparing to something like real estate or other property investments.
In many ways it kinda reminds us of what Bitcoin mining used to be but even better, we're actually bettering the whole world in a way that is beneficial to each and everyone, and also making money doing so.
Remember that the prices of CBD may also fluctuate, and these profits might either be higher or lower in the future, Never invest what you can't afford to lose!
After you have chosen how many plants you want to purchase simply continue forward.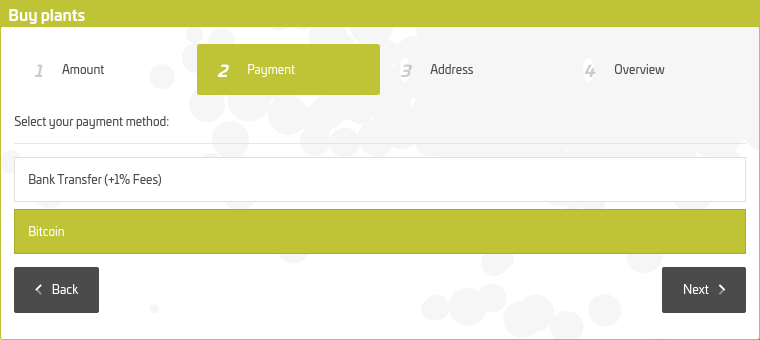 From there you'll be able to choose which payment method to use, as you can see you can choose Bitcoin or Bank Transfer.
However, with Bank Transfer, you are only allowed to deposit up to 5000€ a day without providing a KYC verification documents, while with Bitcoin you can deposit unlimited amounts without having to provide any type of documents whatsoever.
After you have chosen a payment method of your choice, you'll continue and provide your billing information such as your name, address and other required details.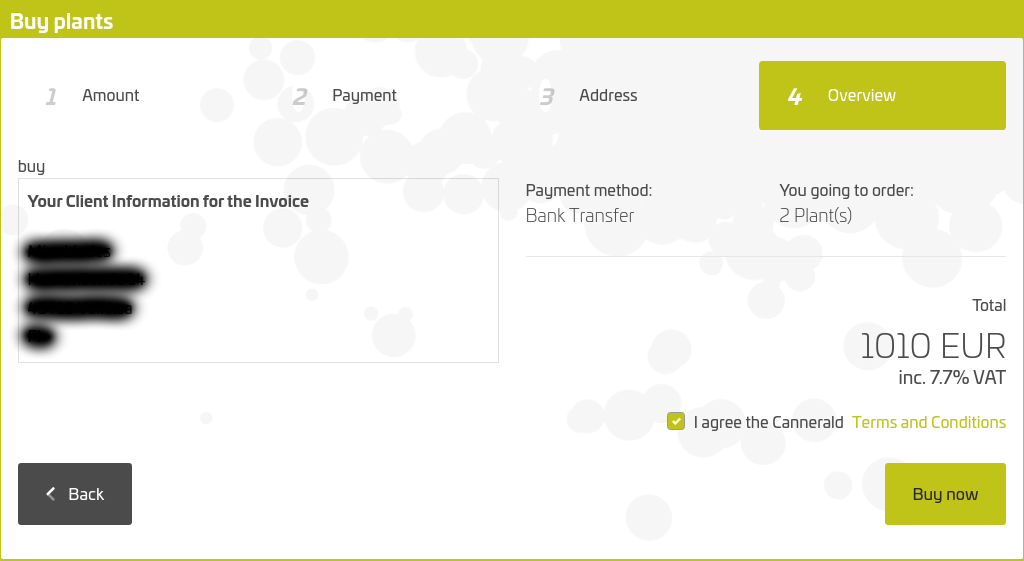 And that's about it, then you'll simply confirm the amount you wanna purchase, and accept the terms, from where you will be provided with the information required to make a payment.
From there on you can just relax and watch as your profits flow to your account. 🙂

After you have generated some profits, you can withdraw the profits straight to your Bank Account, or turn it into Bitcoin with no KYC documents whatsoever.
On top of all this, We Grow For You – CannerGrow also provides you the possibility to earn additional passive income by referring new customers.
Simply join our team, invite your own friends, and we can all make money together.
Make sure you act fast, there is only a limited amount of plants available!