Whether you are new to accepting cryptocurrencies as a form of payment on your website or not, the good thing is you don't actually have to develop tools for each and every cryptocurrency out there yourself.
This is because the cryptocurrency industry is already full of amazing payment getaways which allow even complete newbies to start accepting Bitcoin and other cryptocurrencies as means of payments through their own website and online business services.
So what are crypto payment getaways?
Cryptocurrency payment processors simply facilitate the transfer of Bitcoin and other cryptocurrencies from merchants' websites or business service into their own wallets, or directly into their own bank accounts & fiat currencies.
These services allow merchants who want to accept cryptocurrencies as a form payment to automate and simplify the process of accepting these payments. Cryptocurrency getaways also provide countless of other useful tools such as multi-coin wallets, and debit cards.
How the crypto payment getaways work?
Cryptocurrency payment getaways all work in a similar fashion, they either exchange the currencies you receive to fiat currencies, and deposit into your bank account, or you simply receive the payment in the form of cryptocurrencies.
This all depends on your choice of getaway and the approach you want to take.
However in most cases it all goes like this:
A customer chooses to pay in Bitcoin or other cryptocurrencies. – You've pre-determined in what currency you want to receive these payments(USD, EUR, GBP, or any other).
The customer then pays the invoice at a fixed rate, the currency gets exchanged automatically and goes to your chosen fiat currency, bank account, or directly to the wallet you control.
And that's it, most cryptocurrency getaway work in the background and can do all the fiat settlements totally automatically, making your taxes easier, while protecting you from the price volatility. Of course, if you decide to support the Bitcoin ecosystem, and want to receive payments in Bitcoin without converting them, that is also possible.
What are the best payment getaways for cryptocurrency?
To find out which cryptocurrency payment getaway is the best depends on your needs, technical skills, and multiple other factors. That being said, this list compiles all of the important payment getaways and the necessary information for you to decide.
For technical users who want extreme security, and privacy we recommend skipping this article and go directly to a self-hosted platform such as BTCpay.
However for most people, this is probably not the right option and it's why for majority of people who just want to start accepting cryptocurrencies through their website, we always recommend either Blockonomis or Coinpayments.
That being said if you are new to cryptocurrency payment getaways, and want to learn more on how to implement either Coinpayments or Blockonomis, check our other article as we've put all of our information on that blog post.
Lets now take a look at the best cryptocurrency payment getaways and their differences.
---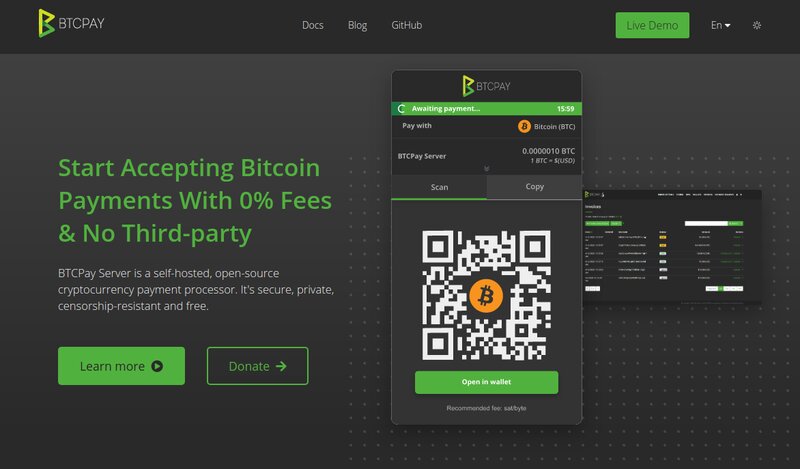 BTCPay Server is the most advanced open-source cryptocurrency payment getaway.
The platform allows crypto merchants to receive payments in Bitcoin and various other supported cryptocurrencies without having to trust any third parties. This is because the BTCPay server is self-hosted, meaning it requires one's own technical knowledge to run and operate. The main advantage of free and open-source software of course is that the platform can be managed without any additional costs, including zero transaction fees.
BTCPay Server is by far our most recommended service if you want to stay private, require open-source software, or if you just happen to be a more technical person with interest to operate your cryptocurrency e-commerce services totally free of third parties.
Pros:
Transparent open-source software managed by a large community
E-commence plugin integration with no middleman

Secure, private, censorship-resistant, and free

Lighting network payments & TOR support
All the regular integration plugins
Cons:
Require technical learning curve (Not for newbies)
---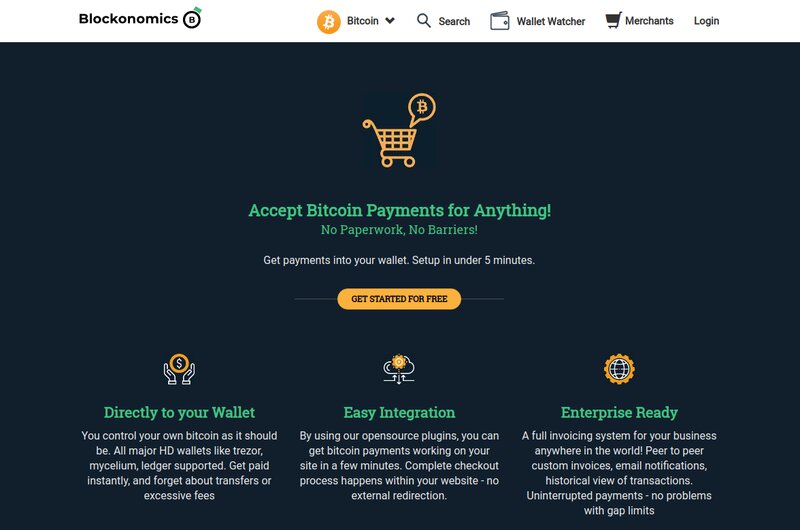 Blockonomics is an advanced non custodial cryptocurrency payment getaway.
Non-custodial means the platform itself does not touch your Bitcoins at all. And because of this it also does not have any third-party requirements. The Blocknomics platform, therefore, acts as a services providers only. And instead to use the service merchants pay for the use on a monthly basis beforehand or as a monthly subscription. The platform also has wallet watcher and multiple other features including the ability to create invoices.
Blockonomics is the alternative to the BTCPay server, it doesn't require a technical implementation, but still allows merchant to stay totally private and secure without having to give away all of their valuable information.
Pros:
Allows payment directly to one's own Bitcoin wallet
Segwith ready, wallet watcher, invoices
Zero Documentation requirements
Secure & private by design
Easy to set up plugins
Cons:
Only accepts Bitcoin & BitcoinCash
---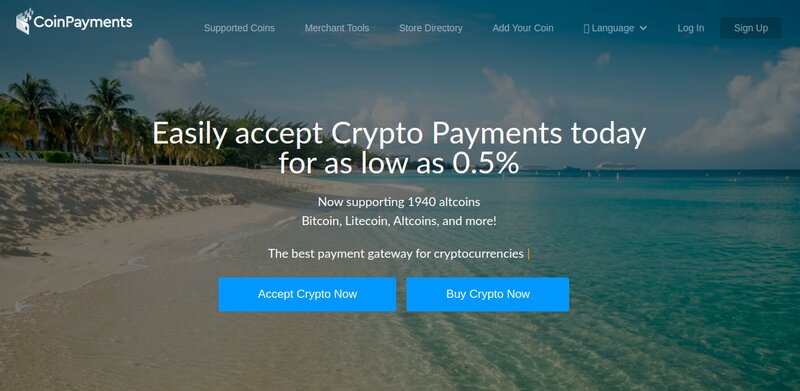 CoinPayments is the largest cryptocurrency payment getaway platform today.
CoinPayments is one of the original payment services that allowed merchants to start accepting a variety of cryptocurrencies. The platform has only evolved since it's early days and today it allows the acceptance of over 1900+ cryptocurrencies for people all around the world.
The platform also has a large set of advanced features everything from multi-coin wallets to, auto coin conversions, fiat settlements, and much more, all with flat 0.5% fees.
CoinPayments is by far our most recommended platform for any regular person who wants to accept a large set of different cryptocurrencies, with low fees and multi-wallet support.
Pros:
Old reputable platform with the largest set of accepted cryptocurrencies (1900+)
Unique $PayByName allows receiving all coins without addresses
Multi coin crypto wallet with auto coin conversions
Can be integrated with all the popular plugins
GAP600 instant Bitcoin confirmations
Airdrops of new coins and tokens
Lightning Network payments
Cons:
---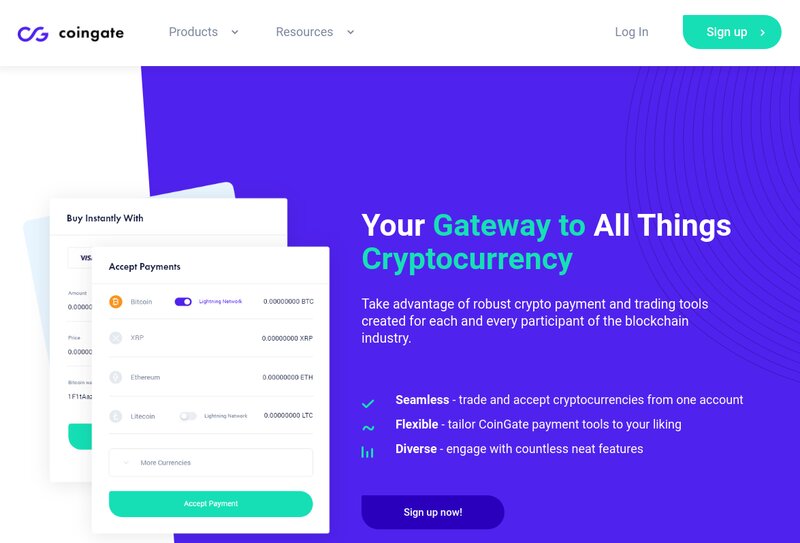 CoinGate is another strong and reputable cryptocurrency payment getaway.
CoinGate platform allows cryptocurrency payments through a website with quick registration and multiple tools and features. Merchants can, for example, accept, buy, sell and manage over 50+ cryptocurrencies with variety of integrated plugins, payment buttons, and API:s.
CoinGate is great for anyone who requires feature rich platform with fiat integration.
Pros:
Reputable platform with advanced fiat exchange possibilities
Point-of-Sale (PoS) system, accept crypto where you go
All the regular plugins for website integrations
Lightning network support
Cons:
Identity verification is required
---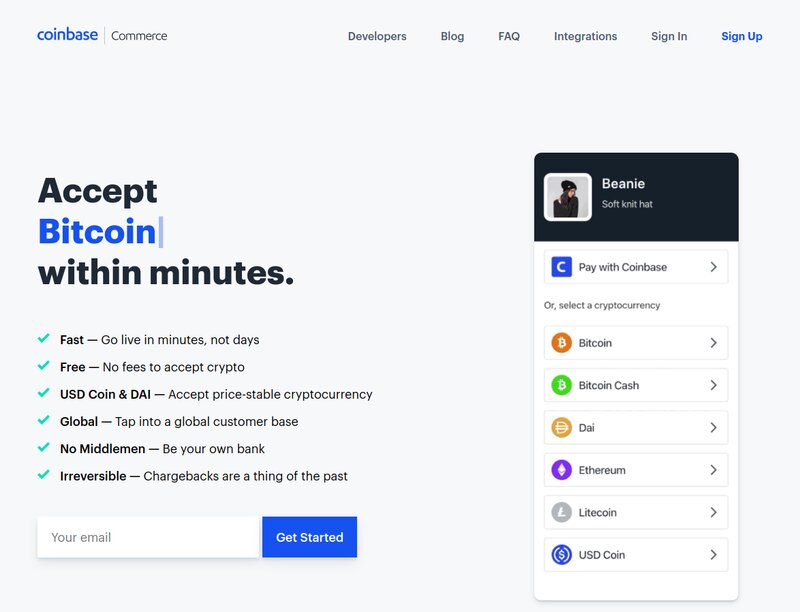 Coinbase Commerce is one of the most popular exchange, and hot wallet in the industry.
Not only this platform offers services internationally, but it allows everyone to transact, exchange, and hold coins, within reasonable security. One of the key advantages of Coinbase as a merchant service is it's integrated easy to use fiat services. The platform also has zero fees for accepting cryptocurrencies, but one must recognize that there are other fees involved such as when you convert Bitcoins into fiat currencies.
Coinbase is probably one if not the best option for any American citizens, as it also makes dealing with taxes a bit more straight forward process.
Pros:
One of the fastest platforms to get started with accepting cryptocurrencies

Zero fees for accepting Bitcoin and other cryptos through your website

Payment buttons, email invoices, popular plugins
Cons:
Requires Identity verification

Fewer cryptocurrencies
---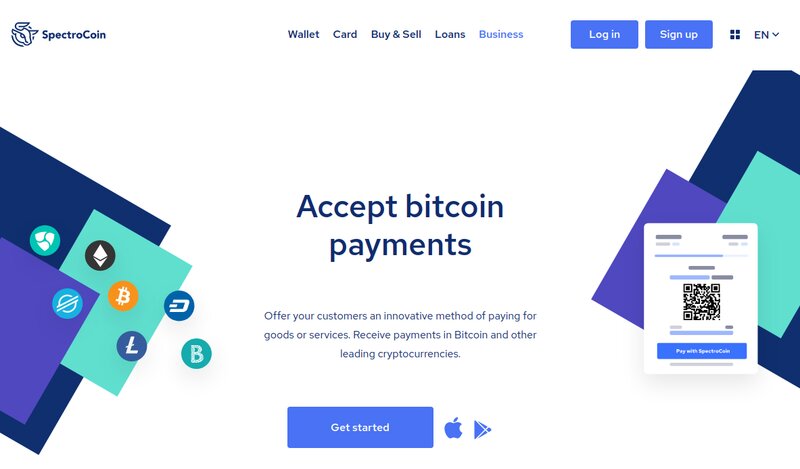 SpectroCoin is another oldschool cryptocurrency exchange and getaway platform.
SpectroCoin platform allows acceptance of cryptocurrencies through your website, with instant exchange into fiat currencies such as USD, EUR, and GBP to avoid volatility. The platform also offers many integrated fiat features, such as debit cards, IBAN accounts, and multicurrency wallets with up to 20+ cryptocurrencies.
Pros:
Reputable Oldschool platform with over 7 years of experience
All the regular plugins and API integration
Bitcoin debit card with personal IBAN
Cons:
Each merchant requires a separate application
Can accept very few cryptos
ID verification is required
---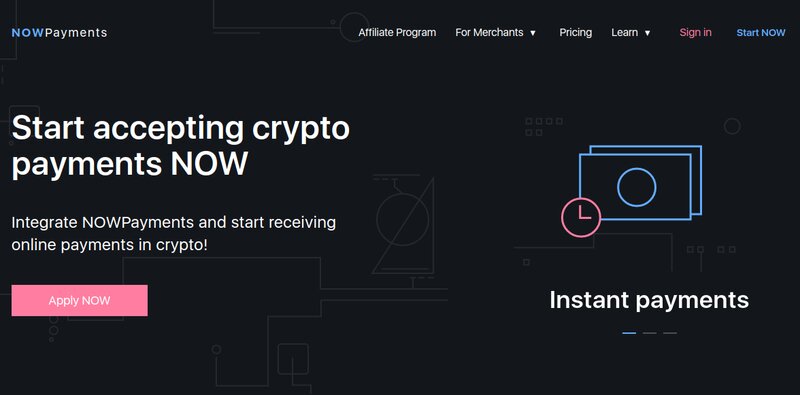 NowPayments is one of the newer cryptocurrency getaways.
The platform allows acceptance of multiple different cryptocurrencies, with easy to use implementation. Accepted coins go instantly to the user's wallets without the user having to worry about anything. It's important to note that the platform however is not completely non-custodial.
Pros:
Multiple widgets, buttons, API development, and plugins
Coins get deposited instantly to users wallet of choice
Many coins available with Instant conversation
No identity verification needed
Cons:
No fiat settlements
---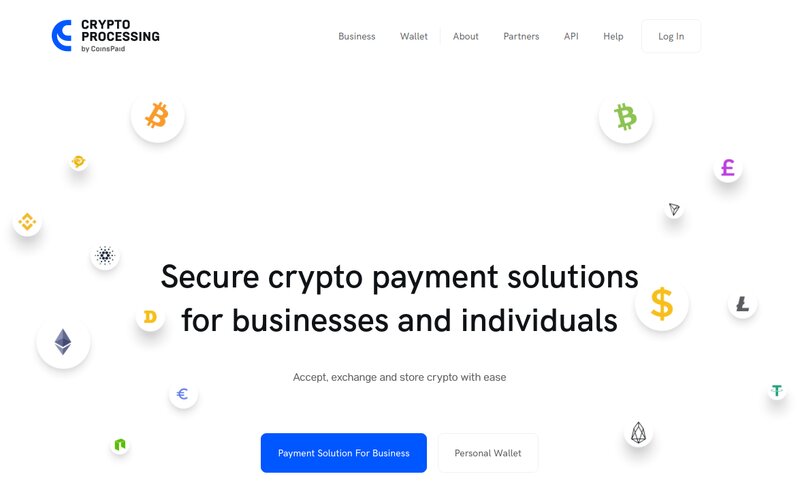 CryptoProcessing is another trusted cryptocurrency payment getaway.
This platform offers services to some of the big names within the industry and with a long term experience. It allows acceptance of over 30+ cryptocurrencies, and with auto conversations to fiat currencies of your choice directly paid to your bank account.
Pros:
Possibility to become a crypto merchant yourself with their infrastructure
Build-in OTC desk for automatic fiat currency conversions
Invoices, and simple integration
Cons:
Requires application to begin with
Identity is required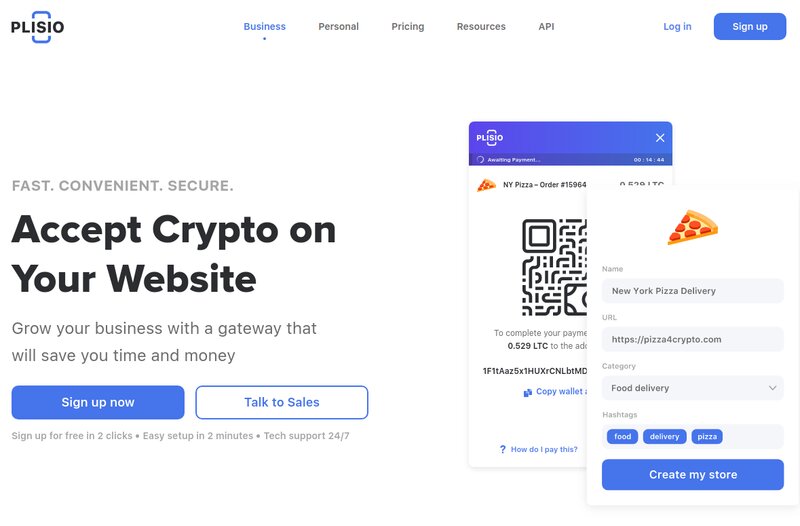 Plisio is a fresh cryptocurrency getaway with unique approach.
The platform allows businesses and individuals to accept a few different cryptocurrencies with low fees of 0.5% and with no identity requirements. Other features include mass payments, invoices, and flexible integration using the regular plugins available.
Pros:
White label your getaway with custom branding
Fast integration with all the regular plugins
No proof of identity needed
Cons:
No fiat settlements
Few coins available
---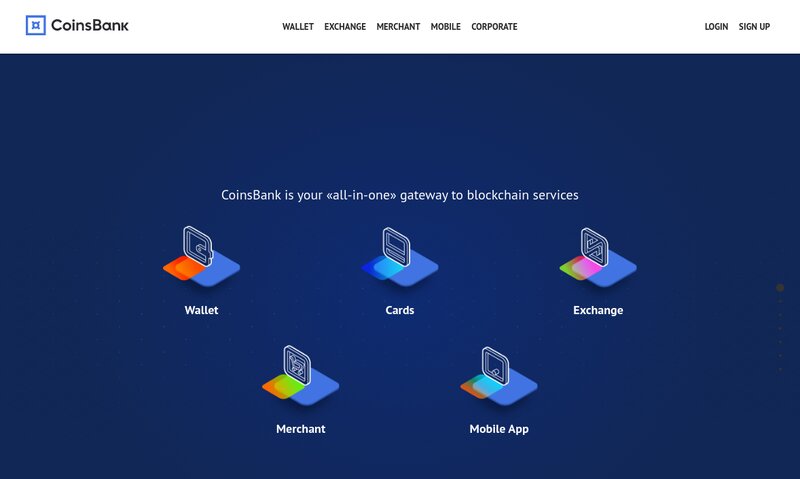 CoinsBank is another all in one cryptocurrency payment getaway.
The platform allows seamless integration with debit cards in such a way that payments can be auto-converted and are ready to use anywhere you go. There are also many other features such as multi-crypto wallets, exchange, and mobile app.
Pros:
All in one platform with fiat integration and exchange
Unique auto conversation with Bitcoin debit cards
Cons:
Few cryptocurrencies available
Requires identity verification
---

Confirmo (BitcoinPay) is another oldschool cryptocurrency payment getaway.
The platform offers easy to use and seamless cryptocurrency payments, with integrated fiat settlements to your chosen fiat currency. Other features include invoices, easy refunds, mass payments, and powerful API.
Pros:
Reputable platform with years of experience
Many fiat currencies for settlement
Build-in easy refund system
Cons:
Identity is required
Only bitcoin & Litecoin
---
GoCoin is yet another early operating cryptocurrency getwaway.
The GoCoin platform was implemented by many in the early days as it was one of the first ones providing the ability to accept cryptocurrencies as a form of payment.
The platform provides multiple features such as protection from market fluctuations with fiat settlements. It also has all the regular plugins ready for easy integration, and more.
Pros:
Reputable cryptocurrency getaway with fiat settlements
Easy setup, comes with all the regular plugins
Cons:
Identity verification
Few cryptos
---
ALFAcoins is a old school cryptocurrency payment processor.
The ALFAcoin is free to use cryptocurrency payment processor for businesses and online shops. It allows accepting multiple cryptocurrencies as a means of payment or donations.
The platform can be integrated with various plugins including WordPress. There are also several features such as buttons, invoices, and the ability to send coins to directly as salaries.
Pros:
Reputable old cryptocurrency getaway
Pay salaries directly with cryptos
Plugin integration
Cons:
Few coins available
No fiat settlements
Identity required
---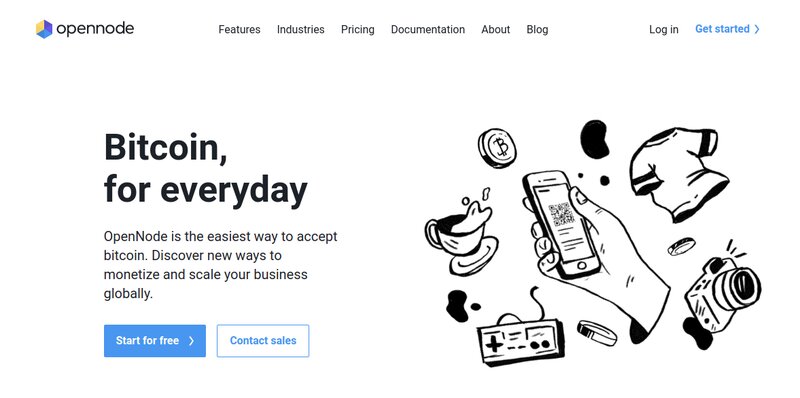 OpenNode is a newer Bitcoin only getaway with lighting support.
This getaway is special in the sense that it is designed for Bitcoin only usage, and with that in mind, it has automatic fiat currency conversions, lighting payments with flat 1% fees.
OpenNode also have some new and unique features such as micropayments, which allow monetization of any interaction as small as ($0.00001/transaction)
Pros:
Hassle-free Bitcoin only getaway, focus on what matters
All the usual plugin integrations with various platforms
Fiat settlements with various currencies
Micropayments for creative monetization
Cons:
Bitcoin only is also the biggest downside
Identity is required
---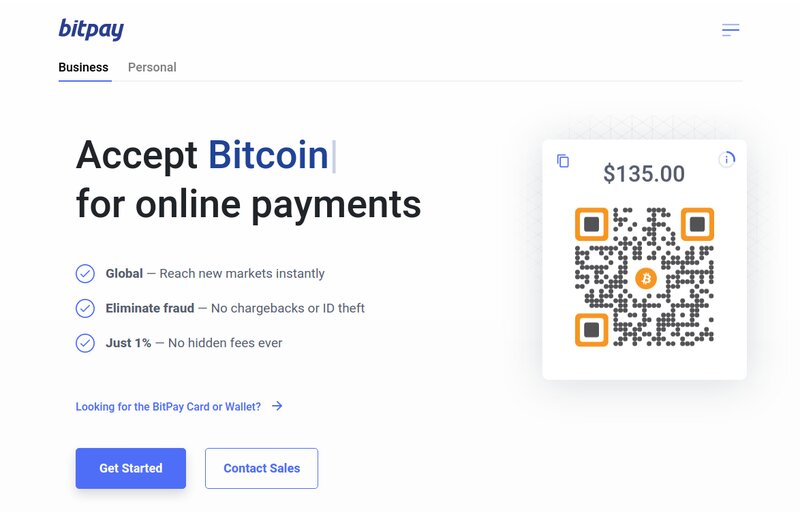 Bitpay was one of the earliest Bitcoin payment getaways in the whole world.
Although Bitpay allows currency conversations from Bitcoin to various other altcoins, and fiat currencies, it still is Bitcoin only focused platform, meaning it doesn't allow merchants to accept any other currencies as a form of payment. BitPay also has it's own Bitcoin debit cards for easy fiat settlements.
Pros:
A crazy old platform from 2011 with Bitcoin as the key focus
Bitcoin debit card with instant currency conversions
E-commerce plugins and POS mechanism
Cons:
No multi-coin features
Controversial past
Identity required
---
Spicepay is a fresh cryptocurrency getaway with trusted clients.
This platform offers all the regular cryptocurrency payment services you could ask for, from currency conversions to multiple cryptocurrencies, and integrated easy to use plugins.
Pros:
Integrated plugins for easy website installation
Inbuild exchange with various fiat currencies
Cons:
Identity required
Few cryptos
---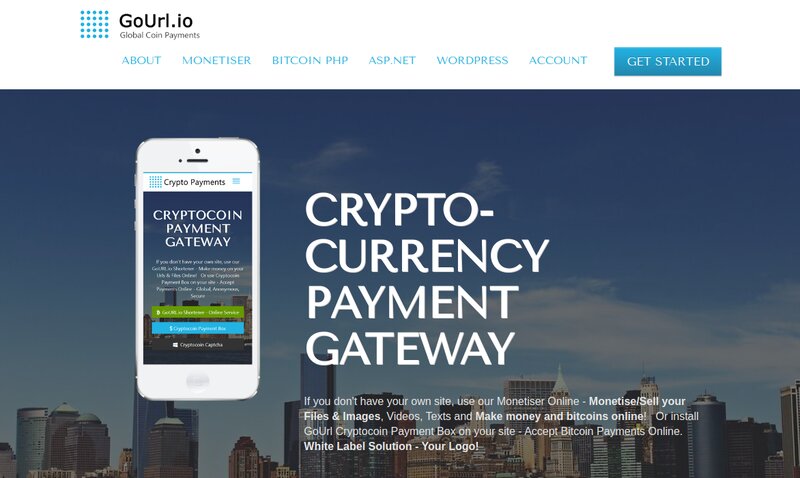 Gourl is another free and open-source cryptocurrency payment getaway.
The platform is absolutely free to use, with no subscription and with various unique features that allow users to monetize their digital products with flat fees.
Pros:
Fully integrated easy to use plugins and API
Anonymous by design
Cons:
---
Why should you accept Cryptocurrencies?
Accepting cryptocurrencies as form of payment has multiple benefits:
Cryptocurrencies operate 24/7 without any downtime.
Cryptocurrencies allow cross border transactions.
You can reduce payment processing fees.
Your transactions cannot be censored.
You don't have to trust third parties.
These are just some examples of why every business owner should start accepting cryptocurrencies as a form of payment.
Not only can you bypass the old dying centralized slavery fiat system, but you are also making sure your business is open internationally and with full sovereignty.
Note that as the world gets increasingly more centralized and governments step up their control structure, at some point in time some of us might not even have a choice but to accept these alternative payment methods. This is already the case for many businesses & individuals out there.
And that's it for today, now it's time to hear what you think: Do you already accept Bitcoin as a form of payment method? Which cryptocurrency payment getaway do you prefer?
Let us know your thoughts in the comment section below, as we will keep updating this article going forward!
And here's few articles that you might enjoy reading next: